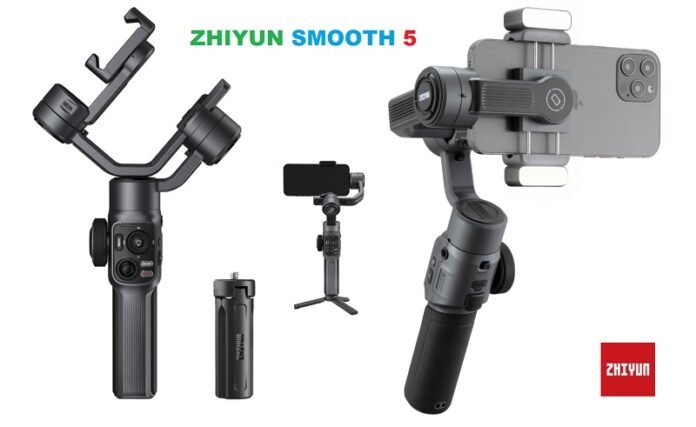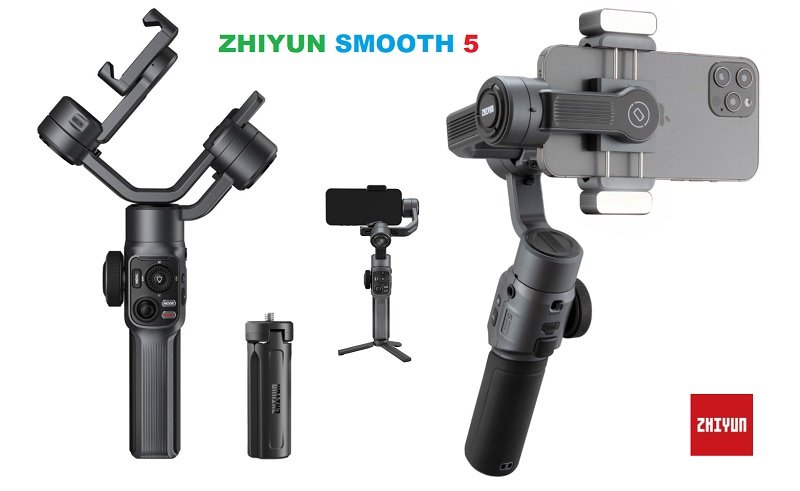 ZHIYUN, the world's leading tech company of professional camera stabilization systems, is proud to announce the release of the SMOOTH 5 phone gimbal. It comes with a powerful fill LED light, similar to the CRANE M3 gimbal.
The ZHIYUN SMOOTH 5 has dimensions of 311*108*52mm and can accommodate most of the latest generation smartphones, including the iPhone 13 Pro MAX, Huawei Mate X2, and Samsung Galaxy S21. The wider phone clamp ensures a safer and easier filmmaking experience. Strong compatibility allows mounting a phone even with external lenses for macro shooting.
There's a large wheel on the left side that allows smooth cinema-like zooming and focusing. The front panel has a round-cap joystick and an adjustment wheel that provide a better experience for users to check and adjust gimbal status while changing camera parameters on the fly.
ZHIYUN SMOOTH 5 Feature Highlights
Upgraded motor performance and algorithm
The SMOOTH 5 has a smaller size than its predecessor but much stronger performance thanks to upgraded motor performance and algorithm. The industry-standard 3-axis design allows movements in all angles to be amazingly smooth, even in extreme angles.
This makes it easy to shoot in all angles switching seamlessly from portrait to landscape mode, and it mounts easily on the phones favoured by mobile filmmakers like the iPhone 13 Pro MAX, Xiaomi Mi Mix Fold, Huawei Mate X2, and the Samsung Galaxy S21 Ultra thanks to its smart lock design.
2. Easy to use control panel – Point, click, and shoot
Users will feel at ease thanks to the all-in-one control panel that allows them to adjust many features with only one hand without the trouble of using an app. There's also a multifunctional control wheel that gives users perfect control over zooming and focusing.
3. Creative Functions – Next-generation tools for the mobile creative genius
With the SMOOTH 5, mobile filmmakers can reach their creative peak. Some of the creative features included in the SMOOTH 5 are Magical Pano, allowing for a magnificent view in your smartphone with 180° panorama, Timelapse, where you can watch the time go by at a quicker pace to experience scenes that are used to take a longer time., and Live Stream Master, which allows for face tracking for the perfect live stream experience. Other features include SmartFollow, which automatically tracks a designated person or object, Dolly Zoom, which mimics a Hollywood style dolly shot without the expensive equipment, and MagicClone which allows you to clone yourself and to appear in multiple parts of a scene.
4. Fill light – Light up every scene with Hollywood quality lumens
The SMOOTH 5 comes with a magnetic fill light that shines at 580 lumens, allowing for any scene to be perfectly lit thanks to the step-less dimming control. It also comes with colour filters and can be attached to either side of the smartphone.
5. Smart Editor- Make Hollywood Magic with a few clicks
During the editing process, the raw footage becomes the masterwork. The SMOOTH 5 has an entire smart editing suite that allows mobile filmmakers to do their best work yet. The ZY Cami Editor means you can wow your viewers with your work of art thanks the ability to reverse the clip and edit it while adding filters, stickers, subtitles and background music.
With the SMART Mode, filmmakers can pre-program the gimbal and achieve creative perfection thanks to dozens of video templates including amazing special effects and music.
Tehnical specifications
Tilt Mechanical Range
Max: 209°
Standard: 349°
Min: -140°
Roll Mechanical Range
Max: 210°
Standard: 300°
Min: -90°
Pan Mechanical Range
Max: 180°
Standard: 360°
Min: -180°
Operation Voltage
Max: 8.4V / Standard: 7.4V / Min: 6.5V
Battery Runtime
Max: 25h
Min: 4.5h
Charging Time
2-4h
Product Size
311*168*52mm (W*D*H)
Product Net Weight
615 grams with battery
Pricing and Availability
The SMOOTH 5 is available for $169, or with a combo that includes a tripod, carrying case, and magnetic fill light as well as a VIP membership card all for $219.