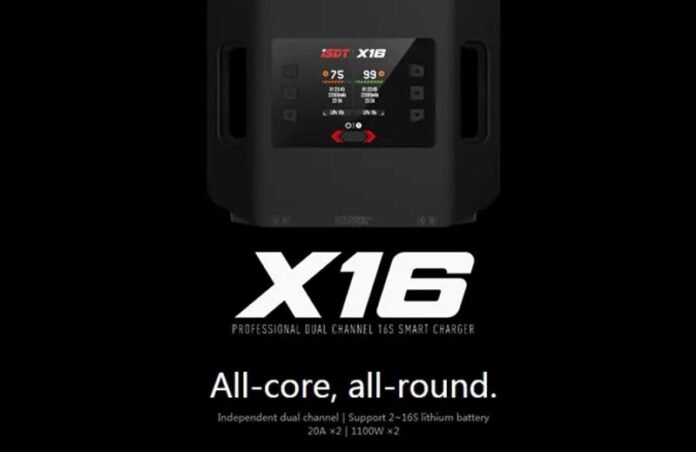 The ISDT X16 is a heavy-duty dual-LIPO charger with a massive output of 1100W/channel when powered by an AC outlet. It can discharge batteries for storage with up to 50W/channel. It adopts a cool futuristic game console design with handlers on both sides and a 2.8″ color LCD screen.
It can charge simultaneously two up to 16-cell LiFe, LiPo, LiHv, or ULiHv batteries. The output voltage is 10~72V per channel. Its built-in AC/DC power supplies accept universal AC voltage between 100 and 240V with no modification required, so wherever you go, the X16 will be ready to charge.
Thanks to Bluetooth connectivity, the ISDT X16 can be monitored and controlled conveniently from your mobile phone using the ISD Link APP.
Buddy RC did a great review of the ISDT X16. Enjoy it!
Technical specification
Input voltage: AC 100~240V
Output voltage: DC 10~72V
Charging current: 1.0~20.0A ×2
Discharging current: 0.5~3.0A ×2
Max. charging power: 1100W ×2
Max. discharging power: 50W ×2
Balance current: 1.5A/Cell
Supported battery types and cell count: LiFe, LiPo, LiHv, ULiHv (2~16S)
Abnormal voltage alarm: Support
Incorrect cell count setting alarm: Support
Dimension: 276×246×82mm
Weight: About 3.5kg
ISDT X16 key features
[High Power Multifunctional Lipo Charger] Support 2~16S LiFe, LiPo, LiHv, ULiHv batteries Ultra high voltage lithium battery with 4.45V battery cell voltage can charge easily. Dual-channel parallel charging, the maximum total output power is over 2200W.Support battery charge and discharge cycle (Max. discharging power: 50W × 2, Balance current: 1.5A/Cell), making your battery more durable.
[Support Bluetooth connection function and mobile operation] X16 can connect to mobile devices via Bluetooth. Control the charger to perform tasks or view detailed parameters of each channel in "isdGO" app. You can also preset charging tasks in the app and use one-button charging instead of tedious charging steps. The OTA upgrade is easy.
[Safe and Stable] Built-in 1200W high-power independent dual power supply, With short-circuit protection, overload protection, under-voltage protection, over-voltage protection, over-temperature protection, Support AC 120V & AC 220V voltage input. Two channels work independently and stably, which can be independent or combined. Provide constant current for X16 stability.
[Synchronous Parallel Charging] Built-in High Speed Processor Synchronous. Balance two-channel charging. Maximum Parallel Charging power up to 1800W(@220V AC), let you really experience fast charging (X16 delivers charging current range from 21~35A).
【2.8 Inch LCD Sunscreen】Low power consumption, IPS screen Auto-brightness adjustable, 178° visible angle Display clear and distinct Even in various hard environments or angles as well as in strong sunshine.