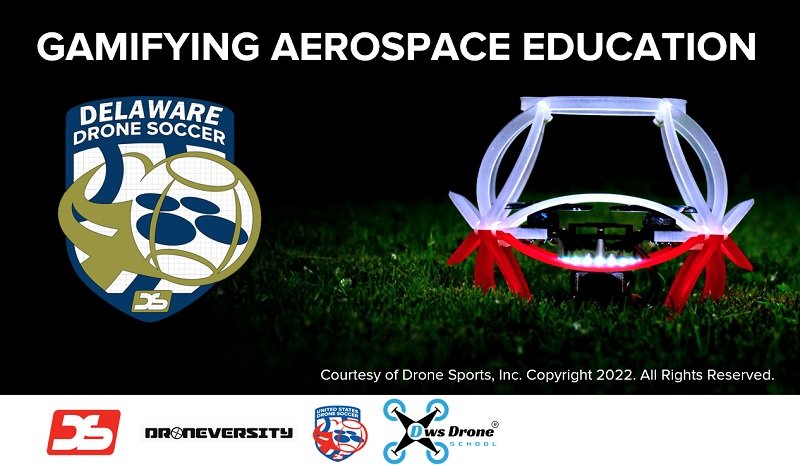 In collaboration with U.S. Drone Soccer, Droneversity and DWS Drone School are bringing drone soccer to Delaware, with Wilmington as the state headquarters. These two drone training schools are excited about this eSport's ability to stimulate the interest of teens and youth in math and science; provide careers in STEM fields, and increase Delaware's economic competitiveness as global technology education and employment hub for aspiring drone operators.
U.S. Drone Soccer is making aerospace careers accessible for all students. Soccer is played with flying quadcopters in protective plastic exoskeletons designed for full-contact gameplay and collisions. It is the only internationally sanctioned eSport recognized by the World Air Sports Federation (FAI), and provides classroom lessons, and after-school leagues for ages 12 and up to immerse students in drone technology and aviation. Before competing, students must first learn to build, program, and repair their drones as a team.
Currently, 1 million students are competing in robotics-worldwide. "The joy of flight is real. When a student flies, but then crashes and makes their first repairs – they've become an engineer for life," says David Roberts, President of U.S. Drone Soccer, who previously took the U.S. Drone Racing Team to two FAI World Championships.
Major Kyle Sanders, VP of Development, said, "We are so proud to partner with Droneversity and DWS Drone School to broaden the entrance to the world of drone technology and aviation through Drone Soccer. Our Delaware partners will also provide courses that lead to students earning an FAA TRUST certification (The Recreational UAS Safety Test), as well as students, staff, and educators becoming FAA certified commercial Remote Pilots that lead to jobs making $50/hr or more."
Attorney and CEO of DWS Drone School, Theophilus Nix, Jr. says, "This is a transformational opportunity to expand DWS Drone School's National Teen Drone and Virtual Reality Technology Initiative to educate and employ teens, which began with a grant from Wilmington, Delaware's Mayor Michael Purzycki".
President of Droneversity, Ashlee Cooper, is an FAA-certified Remote Pilot and FAA Safety Team Drone Pro for the state of DE. As a woman, she has a special interest in getting girls into Science, Technology, Engineering, Arts, and Mathematics (STEAM). However, Drone Soccer will engage thousands of male and female students and teacher educators new methods of STEAM instructions.
Academic enrollment is now open for schools and summer camp providers. Equipment and training are available.