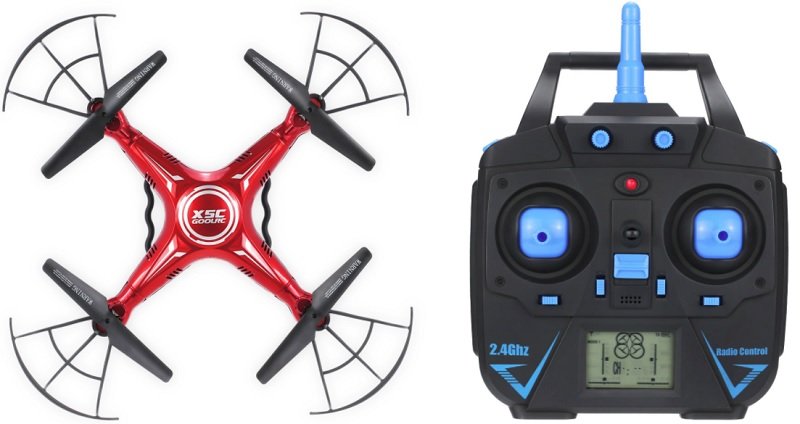 Five years ago I started my journey in the world of multi-rotors with a Syma X5C. At that time it was the first affordable drone. GoolRC X5C follows its epic design while bringing new features like headless mode and on key return to home.
According to the manufacturer's specs, the 500 mAh battery allows about 5 minutes of flight time. In my opinion, by removing the camera and the propeller protectors you can have at least 1 minute of extra play time.
The 2MP camera allows to record videos as well as take still photos. GoolRC includes a 4GB micro SD card with their X5C drone, which is far enough to store couple of your flights.
GoolRC X5C features and specs
Compact and lightweight design;
6-axis gyro-stabilization;
Headless flight mode;
One key return to home (not GPS assisted!);
360° eversion (flip and rolls);
Cool LED lights for night flights;
Removable 2MP camera for aerial footage;
Brushed motors;
About 4-5 minutes flight time.
The weak point of the X5C drone, are the brushed type motors. They usually start to burn-out after 10~20 flights. You can opt to replace them one by one or all in the same time by following my Syma X5C repair instructions.
Where to buy?
Using this "L5099R1" coupon code (valid till 2018.3.6) you can get it from here with $22.56 off. In order to have more fun time, you can additionally purchase 4 batteries with 4 way charger for only $18.78.
GoolRC X5C package content
The drone it self;
2.4G remote controller (mode 2);
2.0MP HD Camera;
4GB Micro SD Card;
USB memory card reader;
3.7V, 500mAh LIPO battery;
USB charging cable
2 pairs of spare propellers;
1 set of blade protectors;
2 pieces of landing gears
Screwdriver;
User guide.
Sponsored post by CAFAGO