MOZA, an expert in image stabilization systems just announced the launch of the World's
First Auto-sense Smartphone Gimbal – MOZA Mini MX2, the most intelligent stabilizer for phone filmmakers.
The Gudsen MOZA Mini MX2 gimbal is an evolutionary upgrade that features a new set of gimbal technologies of the previous model – MOZA Mini MX. The MOZA Mini MX2 introduces the brand new smart auto-sense phone holder function. Using the built-in smart sensor, the phone holder can detect the phone precisely and clamp/release it automatically. Simply place the phone in the center of the holder, the clamps will automatically close and balance. The Mini MX2 can provide you an extraordinary hands-free shooting experience.
MOZA's Genius design of Mini MX2 is for making the filming easier than ever. With the upgrade of the MOZA classic "DeepRed" anti-shake algorithm, the stabilization of
the gimbal now reach a new level. The smart transition design enables users to transit
from portrait to landscape orientation in a second. The classic MOZA spiral folding
design can make the folding size no big than a notebook and allows the gimbal to
travel everywhere with you. The Mini MX2 is a gimbal with solid stability and is super
easy to use and operate.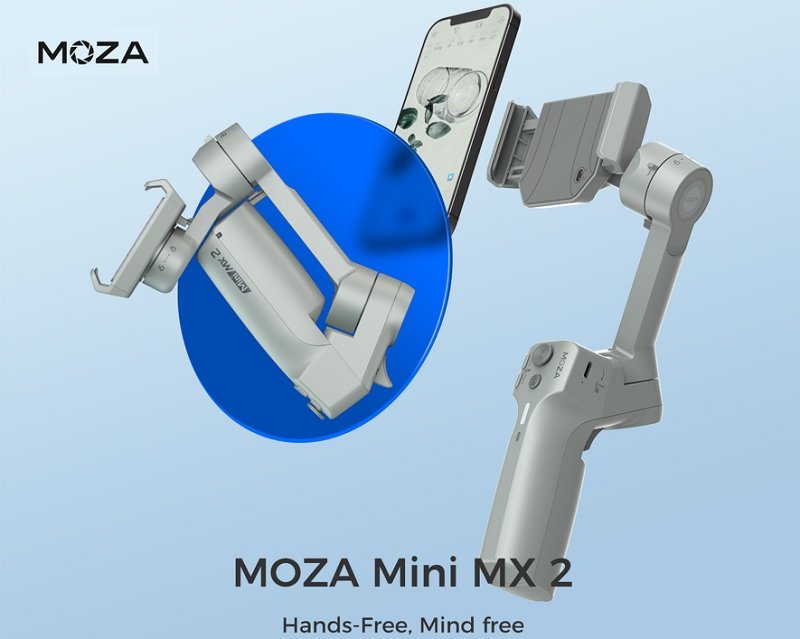 The Gudsen Mini MX2 phone stabilizer offers intelligent features to help make shooting more efficient. The incredible tracking system of Mini MX2 can keep a subject in sharp focus while moving the object at high speed. With smart gesture control, users can use simple hand gestures to trigger the shutter and start/stop recording.
Core features:
Smart Auto Phone Holder Design – Ultimate Hands-Free operation experience

Smart Sensor – detect phones easily and precisely
Automatic releasing and clamping
Automatic Balancing

Genius design, Ingenious carving – Easier than ever

Impressive Stabilization – super stable and smoothly Instant Portrait and Landscape modes
Transition – transit orientation in a second
Ergonomic Handle Design – easily shoot at all angles
The Spiral Folding Design – no bigger than your palm

Ingenious Shooting Ecosystem – Efficient x Intelligent

Fast Tracking – easily tracking objects under high speed
Always in focus – always keep your object in the center
Smart gesture control – use simple gestures to start record

Incredible MOZA Genie APP – Masterpiece for Everyone

Magic Mode – more than 16 templates to unleash your creativity
Edit In Seconds- advanced editing system to simplify your creative process
Share Right Away- share on social media with one click

Advanced Shooting Modes – Same World, different beauty

Slow Motion
Time-Lapse
Inception Mode
Sport Mode
Vertigo Effect (Dolly Zoom)
More functions coming soon…

Phone camera control via Bluetooth connectivity
Accessory – Equipped with the 1/4 expansion interface. It can connect to a tripod,
telescopic extension rod and other accessories
The MOZA Genie App is a powerful all-in-one photo and video editing tool, and it's tailored for mobile cinemakers. The magic mode of the App provides a wide variety of built-in creative shooting templates and offers a super-easy editing process. Shoot with the MOZA Mini MX2 and edit in MOZA Genie App. A cinematic masterpiece can be created in seconds using the Genie App. The MOZA Mini MX2 has many advanced shooting modes like panorama, fast-tracking, inception mode, time-lapse, sports gear mode, slow-motion, and dolly zoom. Whether you are recording a vlog or following the action of a hockey game, or
just gazing at the stars, the MOZA Mini MX2 offers creative functions to allow you to
unleash your creativity.
The Gudsen MOZA Mini MX2 gimbal has been designed with the user's comfort in mind. The
ergonomic handle design of the gimbal allows you to shoot naturally at all angles
without feeling tired or worry about straining your wrists. It is also equipped with the
1/4 expansion interface, which can connect to a tripod, telescopic extension rod, and
other accessories to provide unlimited shooting possibilities. Enjoy the Ultimate Hands-free operation experience of the MOZA Mini MX2, place the world in your palm. The newest gimbal from MOZA is available now at gudsen.com for $109.