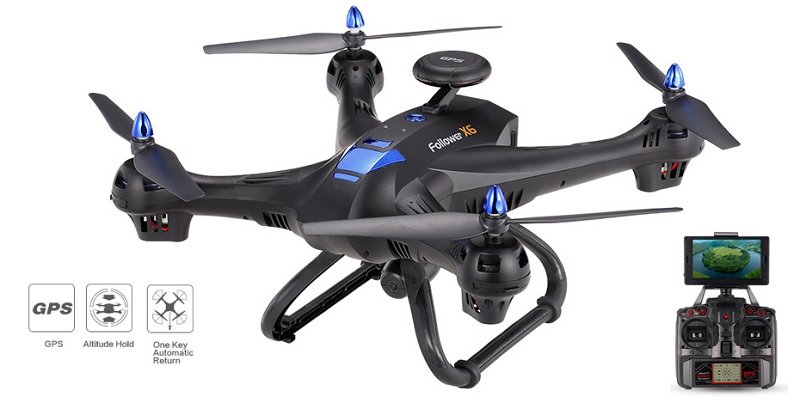 Personally, I have mixed fillings regarding brushed GPS drones like this X183GPS. I'm not sure that it would worth thickening so much technologies into quad-copters with a weak point like brushed motors. Anyway, for only $150, the X183GPS quadcopter with complete FPV system seems to be a great deal.
Thanks to the GPS positioning system, the X183GPS features precise hovering and orbit mode (circle hovering). Note: it doesn't have obstacle avoidance, so during "Follow me" mode you have to be carefully not to bump into something.
According to the manufacturer's specs, the 2000 mAh Li-Po allows about 8 minutes of flight autonomy. Both, control and FPV range, are more than 200 meters.
In case you lost the visual contact with the aircraft, you can activate the "RTH" feature and the aircraft will autonomously return to the take-off point. I specially recommend for beginner pilots to fly in large open fields without trees and buildings because they can be deadly obstacles for their precious toy.
X183GPS drone features and specs
Double GPS positioning system;
Intelligent flight modes (Orbit mode / Circle hovering and Follow me);
One key Take off / Landing;
Altitude hold \ Auto-hover;
GPS assisted RTH;
HD camera for aerial videos;
5.8G real-time image transmission (FPV);
About 350~400 meters control range and 200~300 meters FPV range;
Up to 10 minutes flight-autonomy.
Like the XinLin X181, the Global Drone X183GPS has also external removable camera with 5.8G real-time image transmission and on-board DVR (video recorder). BTW, the design of these two quads is also very similar.
I just saw on YouTube a video where a dude hanged his GoPro 4 camera on this GPS drone and recorded some cool aerial videos. Unfortunately, without a gimbal the video had some jello efect.
Those who are interested to start their journey into the world of multi-rotors, the X183GPS can be found here. Using this "CSTX183" coupon code you can get it with $10 off.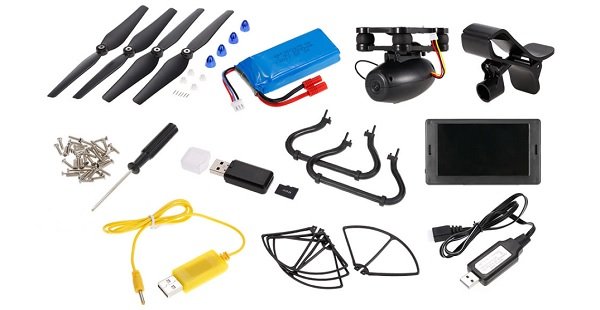 Included with the X183GPS quadcopter
2.4G remote controller with screen holder;
7.4V 2000mAh flight battery;
HD FPV Camera;
5.8G, 4.3″ LCD monitor with built-in battery;
4 pieces of propeller and caps;
1 set of propeller guards;
2 pieces of landing skids;
USB charger for FPV screen;
USB charger for drone battery;
Micro SD card reader;
4GB micro SD memory;
Screwdriver and screw set;
User manual.
Sponsored post by TomTop