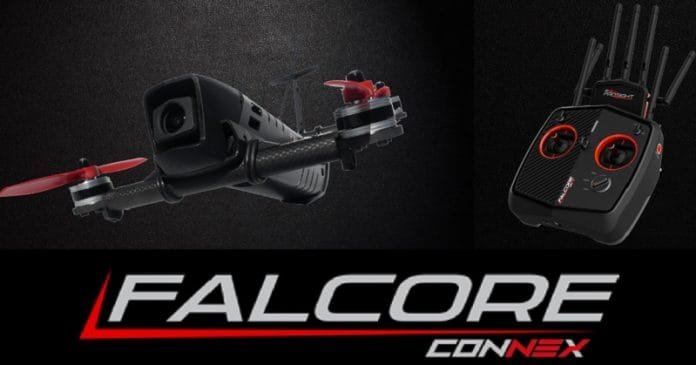 Surly for nearly 800 bucks, the Amimon Falcore HD is not the cheapest racing quadcopter. Checking the specs, I found out that the hefty price comes from the FPV system. The CONNEX ProSight HD Vision Kit (professional delay-free FPV) costs itself $399.
The Connex Falcore 8-CH transmitter equipped with the ProSight VTX looks pretty high-end. In order to allow excellent reception quality, the VTX is equipped with 5 pieces of rubber ducky antennas. Through the HDMI, out of the Connex ProSight VTX, you can attach any FPV goggles or FPV monitor with HDMI input.
Besides "Acro" flight mode, the Amimon Falcore HD features "Shield" mode which is is designed to make learning to fly intuitive and easy for beginners. In this mode, thanks to the barometer and sonar sensors, the aircraft is capable to maintain its flight altitude autonomously.
All electronic parts and flight battery are well protected by the ultra-durable carbon fiber chassis.
Amimon Falcore HD features and specs
Robust 250mm carbon frame;
Cool sporty design;
Top Speed of 80 mph (128km/h);
Stop & Land button automatically grants pros and beginners with a soft landing;
Altitude hold;
Optional detachable blade-guards for indoor racing or extra prop protection;
Motor arms can be quickly removed for easy packing Falcore drone in a small backpack;
Versatile F3 flight control, compatible with

CleanFlight configurator

;
Falcore 2204 2300k brushless motors;
Multiple flight modes (Shield flight, Horizon and Acro);
HD real-time image transmission (720P compatible HDMI);
Connex Falcore 8-Channel AFHDS 2A 2.4Ghz radio system;
Compatible with several existing standard XT60 4s Li-Po batteries.
Package content
Falcore Racing Drone;
ProSight Video Transmitter, Receiver and Camera;
Falcore 8CH transmitter;
Charger for the remote controller;
Falcore 14.8V 1800mah Li-Po Battery;
Balance battery charger;
1 set of HQ 5045 Bullnose propellers;
MultiTool.
Newbies can additionally purchase blade-protectors that are recommended also for indoor flights.
Image credit to Amimon