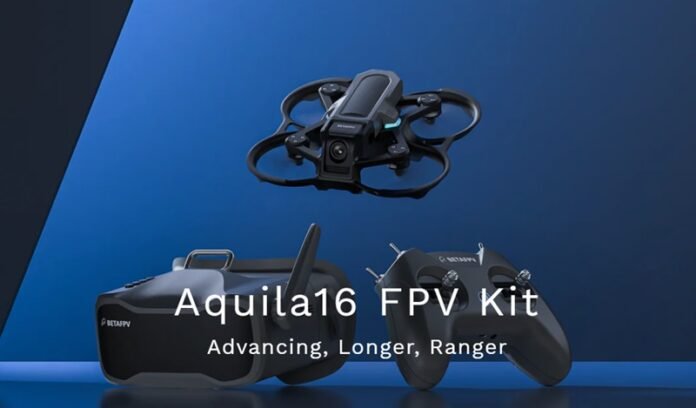 When it comes to beginners, after they finish flying a couple of hours in front of a computer simulator, I recommend starting with basic kits like this BetaFPV Aquila16. They are not just affordable but also easy to fly out of the box without the need for any configuration.
FPV stands for first-person view, meaning you can see what your drone sees through a camera and a pair of FPV goggles. It's a pretty immersive experience; even if it lasts only for a few minutes, you feel like you can fly like a bird. However, flying FPV drones is not as easy as it looks, especially in Acro (freestyle mode), which requires a lot of practice. This BetaFPV Aquila16 features three flight modes that allow you to master your flight skills day by day. You can start with N-mode stabilized mode that can be set with three speed rates (slow, mid, and fast). Thanks to the high-precision barometer air pressure sensor, the drone can detect the height and adjust its altitude, making the learning curve easier. Furthermore, the "Turtle" mode flips over the drone to continue your flight if you crash it upside-down.
In the Aquila16 kit, BetaFPV includes all the parts needed for your first-person flight. You will not have issues with pairing and binding accessories from different brands. It's a plug-and-play setup intended for beginners with minimal knowledge of the RC field. Furthermore, the kit comes in a nice handbag for easy storage and convenient transportation. The included LiteRadio 2 SE controller is compatible with computer drone simulators, so you don't need to invest and learn using two transmitters.
Durable frame structure, easy-to-maintain modular design
When you fly FPV for the first time, crashes are inevitable. Your brain and fingers need to accommodate the new immersive experience. The Whoop-style duct guard design ensures safe flights by protecting the propellers when you bump into something. This feature comes in handy, especially when you are practicing indoors.
As you can see in the picture below, the Aquila16 adopts a modular design that allows easy replacement of the damaged parts during a crash. The frame parts are made from lightweight and impact-resistant PA12 material. It is equipped with durable 1102|18000KV brushless motors and a specially developed Aquila V1.0 flight controller.
Battery life and flight distance
The Aquila16 is powered by an 1100mAh high-voltage LIPO battery. When you fly from 4.35V down to 3.4V you can expect about 8 minutes of flight time. Using the included BT2.0 charger, you can recharge the flight battery conveniently from any USB port.
Like most FPV drones, the BetaFPV Aquila16 also uses an open-source ExpressLRS transmission system. ELRS is known to provide low latency over long distances. According to the advertised specs, using the LiteRadio 2 SE transmitter, you can have a range of 200 meters, which is enough for proximity to most newbies. The control range is probably much longer, but you are limited by the FPV feed, which is realized using a 25-350mW 5.8Ghz VTX (video transmitter).
Pricing, availability, kit content
The BetaFPV Aquila16 kit is an excellent Hollowen gift for those who want to start their journey in the wonderful world of FPV drones. The combo kit includes the Aquila16 Whoop drone, LiteRadio 2 SE radio controller, VR03 FPV Goggles, two flight batteries, a charger, spare props, and screws. This starter FPV kit can be ordered from the manufacturer's official online store for $249.99.
🎃 Spooky Halloween to all FPV drone lovers! 🎃