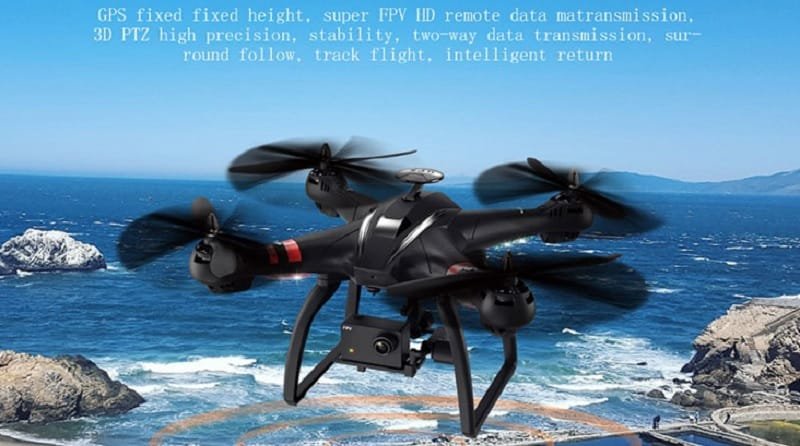 Dual GPS, Intelligent flight modes and brush-less-motors, just three key features of the BAYANGTOYS X21 which were not imaginable for only $200 few years ago.
This new BAYANGTOYS drone was announced in two variants, a cheaper one with fixed camera mount and a more expensive one with 3D PTZ gimbal. Both variants are equipped with Full HD GoPro alike camera.
Being powered by a 2200mAh (3 cell) battery, the advertised flight autonomy of the BAYANGTOYS X21 drone is about 16-18 minutes. IMHO without gimbal and camera, could stay easily in the air at least 20 minutes.
In case you fly out of the transmitter's range or the flight battery's voltage is critical, the aircraft will return to the "Take-off" point and will land safely.
BAYANGTOYS X21 features and specs
Dual GPS positioning system;
Powerful brushless motors;
Intelligent flight modes (like: Circle hovering and Follow me mode);
Altitude-hold and Headless flight mode;
Telemetry (GPS status, Flying speed, Flight altitude, Flight battery voltage and distance from take off);
Fail-safe auto-return to home (Signal loss and Low battery);
WiFi real-time image transmission (FPV);
Full HD 1920×1080 video recording;
About 400-450 meters control range;
About 250-300 meters FPV range;
Up to 18 minutes of flight time.
Included with the BAYANGTOYS X21 drone
Transmitter with phone holder;
1080P Full HD Camera;
3D PTZ Gimbal (optional);
3s/11.1V 2200mAh Li-Po Battery;
Balance battery charger and AC/DC power adapter;
2 sets of propellers;
Tool pack;
X21 user manual.