As its name says, the BetaFPV HX115 Ripper HD is a 115mm size Toothpick style FPV drone. HX115 HD claims to be within the first ultra-light (75g) drones which comes with Runcam Split 3 Nano camera.
BetaFPV HX115 HD Toothpick is offered with two power options. While 4S version needs to be used with 3030 3-blade propellers, the 3s edition is paired with 3020 2-blade props. Both versions feature same type of 5000KV brushless motors.
According to your existing transmitter you can purchase the BetaFPV HX115 drone in bundle with the following radio receiver types : FrSky XM+, DSMX, Futaba S-FHSS or TBS Crossfire. There is also a PNP option – without radio receiver.
BetaFPV HX115 HD Toothpick features
HX115 Ripper is the first HD toothpick style FPV drone at present which comes with Runcam Split 3 Nano camera. With the features of low latency TV-OUT(~40ms) and 1080P/60fps HD recording, it brings you the ultimate FPV flying experience;
The first carbon fiber series installs Betafpv Toothpick 12A 2-4S AIO flight controller, which can reduce weight and size and makes it easier to work on and DIY without lots of messy soldering and wiring;
More durable and aesthetic while maintaining minimal weight is achieved with a 4.2mm thickness carbon fiber uni-body frame;
Integrates with 1105 5000KV brushless motors, HX115 Toothpick offers unmatched execution in thrust and control;
Supports 3-4S LIPO battery. It has plenty of power and punch to do all the tricks and flips you want. Our recommended power combination is that 3030 props with 450mAh 3S battery, while 3020 props with 450mAh 4S battery.
Specifications
Weight: 74.3 grams (without flight battery);
Air-frame: HX115 T700 carbon fiber frame with canopy;
FC&ESC:Toothpick F4 2-4S AIO flight controller;
Motors: 1105 5000KV Brushless type;
Propellers: HQ 3020 2-Blade Props / HQ 3030 3-Blade Props;
FPV Camera: Runcam Split 3 Nano;
Video transmitter: A01 25-200mW 5.8G VTX;
Radio receiver options: Frsky XM+ / DSMX / Futaba S-FHSS / Flysky / TBS Crossfire;
Battery: 4S/450mAh 4S or 3S/450mAh LIPO pack;
Flight time: Up to 5 minutes in a smooth flight.
Closer lock on main parts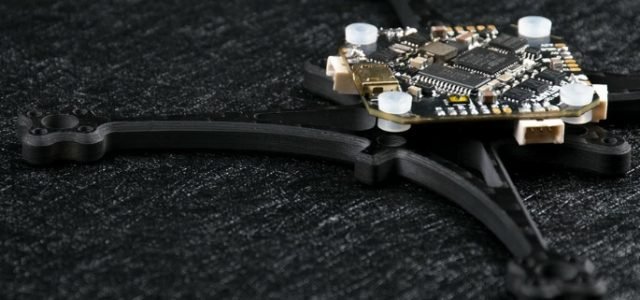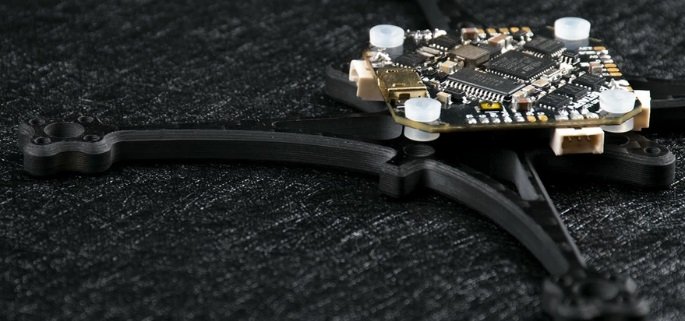 HX115 T700 frame specs
Newly structure design, R0.5 chamfer, and 4.2 mm thickness make HX115 T700 carbon uni-body frame become ultimate durability and aesthetic while maintaining minimal weight. It has applied upgraded T700 carbon fiber material, stronger crash-worthiness compared to the initial T300 frame.
Toothpick F4 2-4S AIO flight controller specs
The first carbon fiber drone series that installs a new layout all-in-one Toothpick FC makes this ideal for tight builds and achieves mini stack height. Possesses high-performance STM32F411CEU processor and tuned Betaflight MATEKF411 (MK41), which provides much more power on 4S.
CPU: STM32F411CEU6 (100MHZ);
Six-Axis: MPU6000 (SPI connection);
Size: 32.5*32.5mm (26.5mm mounting holes);
Firmware version: Betaflight MATEKF411 (MK41);
OSD: Build-in BetaFlight OSD (OSD chip: AT7456E);
Support programmable LED like WS2812;
Built-in current sensor.
ESC specs
Support BLheli/BLHELI_S suite Pass-through ready;
Support PWM, Oneshot125, Oneshot42, Multishot, Dshot150, Dshot300, Dshot600;
Input voltage: 2S-4S Lipo;
Continue current: 12A;
Peak current: 15A;
Firmware: BLHELI_S;
Processor: SILABS EFM8BB21F16G-C;
Motor Connectors: 1.25mm header pins connector;
Factory firmware: G-H-30-16.7.
A01 VTX specs
A01 VTX board is lighter and perfectly suitable for canopy with switchable output power between 25mW and 200mW. SmartAudio is available for VTX remote control in default.
Output power: 25mW and 200mW (Adjustable);
Smart Audio function is included for radio control;
Frequency: 5.8GHz 6 bands 48 channels, with Raceband: 5362~5945MHz.