Following the great success of the Pavo30, BetaFPV is about to release a smaller edition named Pavo 25, which actually is kind of an upgraded version of 95X V3. Currently, the BetaFPV Pavo25 is in the testing phase and will be officially available in a few days.
The BetaFPV Pavo25 adopts a pusher design with inverted motors. Its carbon fibre frame has a wheelbase (diagonal motor-to-motor distance) of 108mm and it comes equipped with a Whoop-style 360° PA12 protection guard. The brain of the Pavo 25 is a versatile F405 AIO 20A V4 flight controller. The 1404 4500kv motors are equipped with Gemfan 2.5″ D63-3B propellers.
Like most CineWhoops, the BetaFPV Pavo25 will be also available with two FPV options. While the analogue edition has a Caddx Baby Ratel2 camera and 5.8GHz 400mW VTX, the HD digital has a Caddx Vista Nebula Pro Nano kit.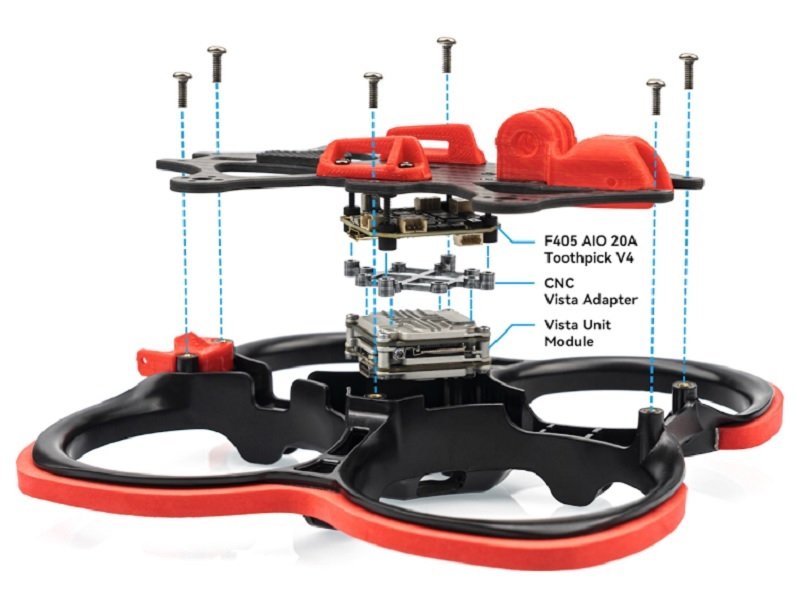 Pavo25 key features
Simple Frame Design: With an integrated outer ring design, the Pavo25 Frame is generally only composed of a carbon fibre brace and PA12 injection moulding material outer ring, making the structure simple and easy to install.
Extremely Sturdy and Durable: Excellent resistance performance, never afraid of a hard crash. The Pavo25 Frame features PA12 injection moulding material, the four corners of the outer ring are convex and equipped with EVA sponge protection strips, which are far more durable than a regular plastic frame.
Super Easy for Installation and Maintenance: Only 6 screws you can take down the frame. A simple, compact, optimized structural assembly design ensures the overall strength of the quad while simplifying the installation steps.
Little Mighty Cinewhoop: With a compact whoop structure design, this lightweight 2.5" CineWhoop works well for both indoor and outdoor shooting with lightweight action cam(GoPro Bones, SMO4K, DJI Action2, Insta360 Go2, and more) and even can complete some simple freestyle actions.
All Rounder: Freestyle or cinematic, indoor or outdoor, BNF Kit or DIY build. Not just one way to fly with Pavo25.
High-quality Visual Experience: The Digital version is equipped with Caddx Nebula Pro Nano Vista Kit; The Analog version has a Caddx Baby Ratel2+A03 400mw.
[Easy Accessible UBS Port] The USB port can be directly accessed at the top plate, easy access without disassembly.
Battery Straps Design: The battery will be placed vertically and against the cam when the cam is mounted. Pilots can move the battery back and add a second battery strap to ensure the ideal balance gravity centre of the quad.
No more Jelly effect in videos: The structure is steady and rigid, also featuring a 2.5mm carbon fibre top plate and the surrounding FPV camera prints; there is no way to see a jelly.
Colourful LED Light: TPU LED mount on the back of the drone has several modes, alter it in Betaflight Configurator for the satisfying gleam at night.
CNC Vista Adapter: Customized design aluminium alloy made CNC Vista Adapter for Flight Controllers that can be installed at 0°/45° for simpler and easy installation. It's will fix in place both the flight controller and video transmitter on the top plate of the frame. The CNC adapter is also compatible with analogue video transmitters that have 20*20 mounting hole spacing to use with 25.5*25.5 flight controllers, and the aluminium alloy material used can help to cool down the VTX.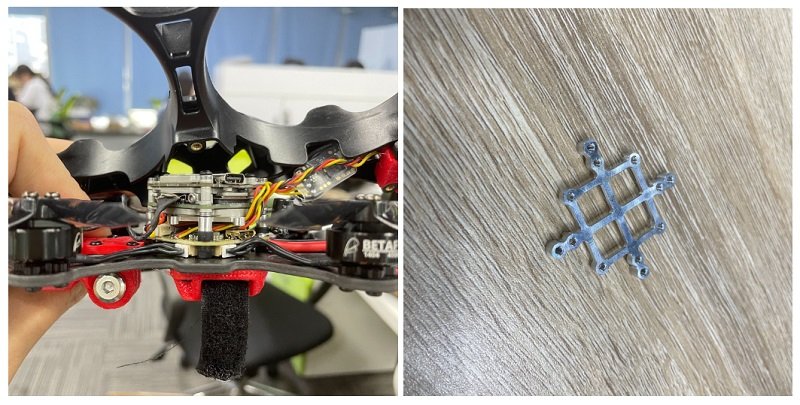 Technical specifications and building parts
Frame

Wheelbase: 108mm
Weight: 60g(with carbon brace)
Body Size: 153.2*153.7mm
Top plate thickness: 2.5mm
Colour: Black、Red
Propeller size: 2.5 inch
FC mounting pattern: 25.5*25.5mm
FPV camera spacing: 14mm

Hardware

Flight Controller: F405 AIO 20A Toothpick V4 BMI270
Radio receiver: PNP, ELRS2.4G, or TBS
Propulsion system: 1404 4500kv motors with Gemfan D63-3B propellers
Power: XT30 plug (4S 750mAh~4S 850mAh)

FPV system

Analog: Caddx Baby Ratel2 + 5.8GHz 400mW VTX
Digital: Caddx Nebula Pro Nano Vista kit

External camera: 3D printed camera mount for GoPro Bones, Smo 4K, Insta360 GO2, or DJI Action 2
Radio receiver: Optional ELRS or TBS Crossfire
Price and availability
The Pavo25 is available at BetaFPV with a starting price of $350 for the HD digital edition without a radio receiver (PNP) or 360$ with an ELRS receiver. The analog version is more affordable and has a starting price of $225. If you want to build your own CineWhoop, the Pavo25 frame kit can be ordered for just 32 bucks. BetaFlight configuration (CLI) file for each variant can be downloaded from here.