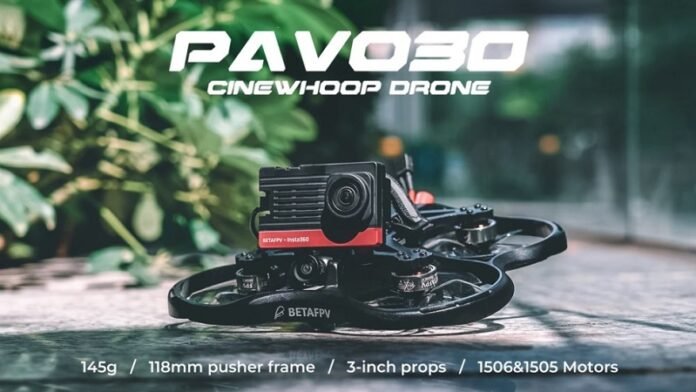 The BetaFPV Pavo30 Whoop drone adopts a pusher design with inverted motors. Despite its small size, it is powerful enough to carry an SMO 4K camera or a Naked GoPro. The newly developed frame promises an unmatched flight experience in its class.
BetaFPV released the Pavo30 drone with two types of FPV systems. While the analog comes with a Caddix ANT Nano camera and M02 25-250mW VTX, the digital edition with Nebula Nano camera and VISTA HD Digital VTX.
Curiously, the two versions adopt a different propulsion system. The analog has 1505-3400KV motors with HQ75 5-blade props and the digital 1506-3000KV motor withs Gemfan D76 5-blade props. There is a slight weight and a huge price difference between the two versions (145g – $209.99 vs 173g – $309.99).
Both BetaFPV Pavo30 variants are equipped with the same type of versatile Toothpick F722 AIO flight controller with integrated 35A ESC. For best performance, you need to power it with a 750-850mAH 4S LIPO pack. Without an additional camera on top, you can expect somewhere between 6 and 8 minutes of flight time.
According to your existing transmitter, you can opt between the following radio receivers: FrSky FCC, LBT, TBS Crossfire, or FUTABA. Digital edition is natively compatible with DJI FPV remote controllers.
BetaFPV Pavo30 features and specs
Newly developed Pavo30 Pusher frame made of PA12 material (118mm wheelbase);
Versatile F722 AIO flight controller with integrated 35A ESC;
Analog and HD Digital FPV versions;
1505-3400KV motor + HQ75 5-blade prop or 1506-3000KV motor + Gemfan D76 5-blade prop;
Caddix ANT Nano camera + 5.8Ghz 25-250mW VTX or Caddx Nebula Nano camera + VISTA HD Digital VTX;
4S LIPO compatible (750-850mAh suggested).
Product images