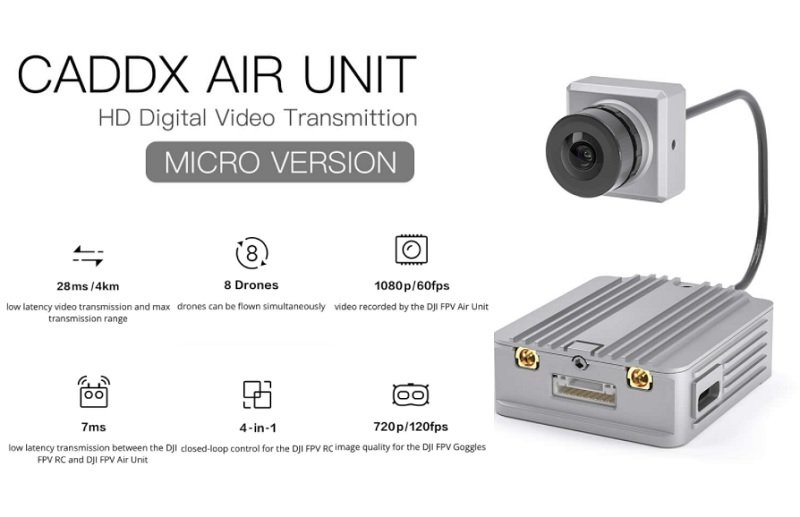 Caddx just announced their second-generation digital FPV system. As its name says, the new CaddxFPV Air Unit Micro is smaller and lighter compared to the Caddx Vista. The Air Unit Micro measures 44×37.8×14.44mm and weighs just 41.5 grams together with the FPV camera.
The Caddx Air Unit Micro VTX is natively compatible with the DJI FPV transmitter and can locally record 1080p@60fps videos. It can be powered from 7.4 to 17.6V (2-4S batteries) and it has up to 700mW broadcast power. In FCC (US) mode, the range is 4K and in CE (Europe) is only 700 meters.
The new camera measures 19x14x15.2mm and it is equipped with a 2.1mm that provides 150° FOV. The Caddx Air Unit camera features a 1/3.2″ CMOS image sensor with 4MP effective pixels.
CaddxFPV Air Unit Micro features
Ultra-compact DJI FPV compatible digital FPV system (Camera, VTX, and antenna);
Total weight of 41.5 gram (Air Unit + Camera);
720p@120fps for DJI FPV goggles;
DJI FPV remote compatible (7ms);
Up to 8 drones in the same airspace;
Long-range and super low latency transmission (28ms/4km);
Onboard 1080p@60fps recording;
Multi-antenna technology.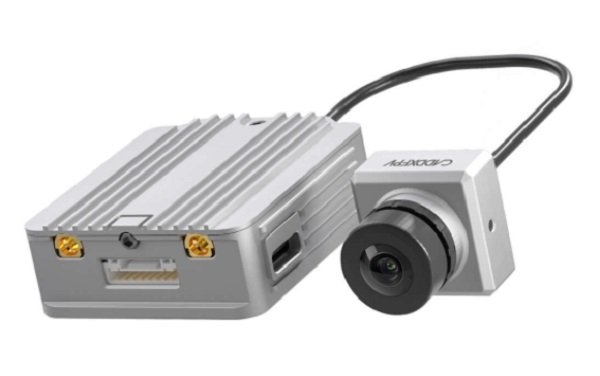 Caddx Air Unit Micro specs
5.725-5.850GHZ operating frequency;
720p@120fps <28mm latency or 720p@60fps <40ms
Trasmitter power (EIRP) FCC/SRRC <30dBm or CE <1430dBm;
FCC 4km or CE 0.7km max transmission distance;
MP4 H.264 video compression;
USB Type C, MMCX, 3-in-1 port, and micro SD Slot;
BetaFlight firmware compatible;
7.4-17.6 input voltage;
25/200/500/700mW broadcast power;
Size of 44×37.8×14.44mm.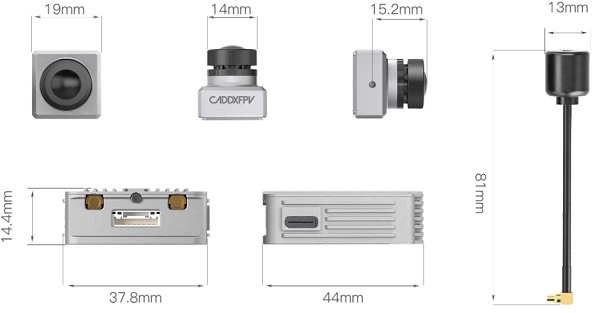 Caddx Air Camera specs
1/3.2″ CMOS image sensor;
4MP effective pixels;
2.1mm, f2.1 lens;
Rolling shutter;
100-256000 ISO speed;
150° FOV;
Size of 19x14x15.2mm.