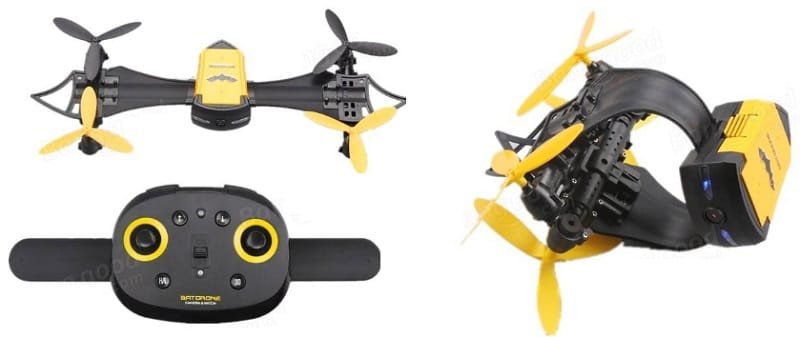 Flexible drones are here! Cheerson Hobby recently announced their CX-70 Bat toy drone that is entirely wrist wearable. Even the remote controller can be attached to your wrist. This new concept will be definitely loved by kids.
The Cheerson CX-70 quadcopter adopts a modular design. Instead of 4 arms it has only two, each one holds two motors. The arms are removable and can be re-attached even to the RC. On top of the yellow canopy is painted a black bat.
In front of the drone are located two LED lights and a 0.3MP WiFi FPV camera. The camera allows to record videos with resolution of 408×384 pixels as well photos with 720×528 pixels.
Thanks to the built-in barometric air-pressure sensor, the CX70Bat is capable to keep autonomously its flight altitude. This feature is very helpful for newbies.
Both, transmitter and aircraft are powered by Li-Po batteries, so you don't need to purchase additional AA/AAA batteries.
Cheerson CX-70 Bat features and specs
New flexible design with detachable arms;
Headless flight mode;
Altitude hold;
One touch Take-off/Land;
Wi-Fi real-time image transmission;
0.3MP camera for aerial filming (480*384 video resolution);
Multiple-control modes (RC, virtual sticks, smartphone gyro);
About 5 minutes of play time.
First video with the CX-70 Bat drone – credits to CxHobby
https://youtu.be/hUVJ5P6Nwoo
Included with the Cheerson CX-70 drone
Drone flight battery (350mAh);
Transmitter battery (120mAh);
1 set of spare blades (2x yellow and 2x black);
Screwdriver;
Battery charger;
Transmitter charging cable;
Connecting line for charger;
Wrist strap;
Electronic watch;
User manual.
BTW, the CX-70 can be also used as wearable wrist watch :)