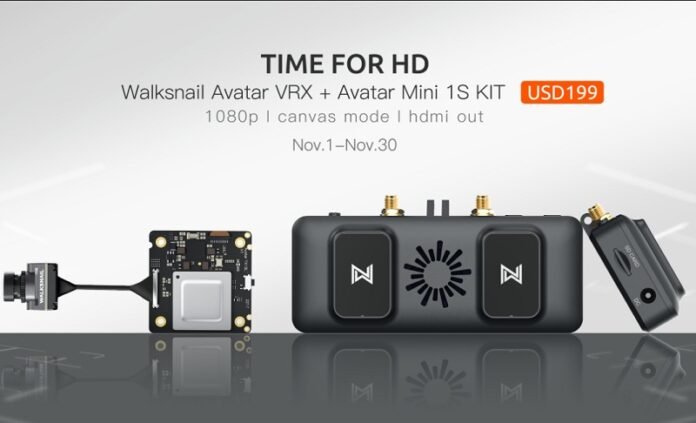 After the marriage between DJI and Caddx ended, the FPV equipment manufacturer started a new collaboration with Walksnail, another HD digital video transmission system provider. The Walksnail Avatar VRX is a compact box (114x55x22mm / 83grams) with four antennas capable of receiving HD digital video signals from Avatar 1s and Avatar HD micro VTXs.
Avatar VRX adopts industry-leading H.265 encoding technology, which can provide a minimum delay of 22ms and a maximum resolution of 1080p. The HD picture quality takes you to experience the fun of flying an FPV drone. The Walksnail system has 1080p@60fps and 720p@100fps modes.
The Walksnail Avatar VRX features an integrated DVR unit (video recorder) and HDMI-out to be used with FPV goggles or connected directly to a display. No mention yet of the DJI Goggles 2 or Goggles V2 compatibility.
Canvas Mode supports BetaFlight full OSD, Iinav, Kiss full OSD, so you can easily adjust the parameters you want by remote operation.
Technical specifications
| | |
| --- | --- |
| Dimensions | 114x55x22mm |
| Weight | 83 grams |
| Number of antennas | Four |
| HDMI Out | Yes |
| DVR | Yes |
| Range | 4KM |
| DC input | Yes |