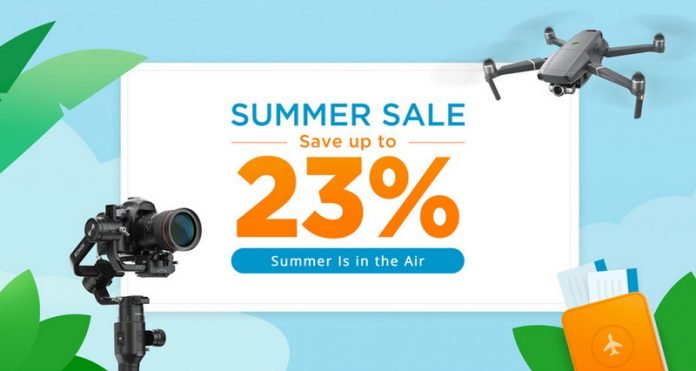 Surely after BlackFriday, the best period of the year is to purchase your desired drone is summer. Now, during DJI Summer Sale you can save more than $100. For example, while the original price of a Mavic 2 Zoom is $1249, now you can have it for only $1149. From the saving you can purchase a spare battery, dedicated drone backpack or other useful accessories.
DJI's cheapest 4K camera drone is also on sale. Between Jun 7 and June 16 you can have the Mavic Air for only $649. Fly more combo pack also gets a $120 discount, you can have it for $879 instead of $999.
Sitting on the opposite end of the price range, the Ryze Tello drone is only $89 during the promotion period. Designed for newbies and kids, the tiny Tello allows them to accommodate with the basic flight techniques. The sale takes $10 off from its already friendly price.
Regions and Dates
DJI Summer Sale 2019
Start date
End date
US
Jun 7, 2019
(EST 0:00)
Jun 16, 2019
(PST 23:59)
Canada
Jun 8, 2019
(EST 0:00)
Jun 16, 2019
(PST 23:59)
Save up to $120 on your DJI drone
Product
Promotion price US
Original price US
Saving
Promotion price Canada
Original price Canada
Saving
Mavic 2 Zoom
$1.149
$1.249
$100
$1.149
$1.249
$100
Mavic Air
$679
$799
$120
$679
$799
$120
Mavic Air

Fly More Combo

$879
$999
$120
$879
$999
$120
Goggles Racing Edition
$449
$549
$100
$449
$549
$100
Ronin-S Standard Kit
$649
$749
$100
$599
$699
$100
Tello
$89
$99
$10
$89
$99
$10
Osmo Mobile 2
/
/
NA
$99
$129
$30