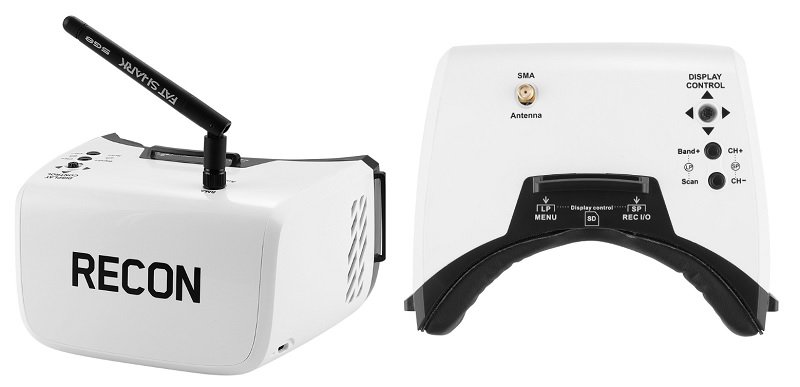 While Fat Shark is one the most popular FPV goggles manufacturer among professional drone racing pilots, their new Recon V2 FPV headset is targeting hobbyist pilots. Of course, featuring such a friendly price tag, it does no have the great specs of the Dominator or Teleporter series.
Firstly, the Fat Shark Recon goggles was offered in bundle with the Fat Shark 101 training drone. Compared to its predecessor, the second generation (V2) Recon has built in DVR and upgraded 5.8 video receiver (32CH vs 40CH).
The FatShark Recon V2 is based on a single 4'3″LCD monitor with 55 degree FOV (Field of View). It features conformable T-type head strap, which allows to be adapted for almost any head size. The goggles is powered by a single piece of 18650 type LiPo battery. Micro USB charging port is located at the bottom of the box goggles.
Fat Shark Recon V2 features
Panel type (single 4.3″ LCD screen) FPV headset;
T type adjustable head strap;
Patented reflection design
55 degree FOV (Field of View);
Integrated 40-channel receiver (including RaceBand & Fat Shark/IRC);
Auto scan function;
Built-in DVR (video recording);
OSD shows video signal strength, battery lifetime and channel selection;
SMA antenna connector;
Powered by 18650 2600mAh Li-ion chargeable battery;
LOW voltage alarm;
FatShark Recon V2 Control buttons
On the right-top of the goggles are located the controls. You have a 5-way control button which allows to adjust brightness and contrast levels, also to initiate auto-scan function. You can manually change bands and channels through dedicated buttons.
Price & Availability
Now, using this "CZCELLNZ" coupon code, you can have the Recon V2 FPV headset for only $69.99. The package includes FPV goggles, head-strap, 5.8G rubber ducky antenna and user manual.
Sponsored post by GeekBuying