From the first sight it is obvious that the Goolrc X12 drone follows the design of the more expensive DJI Spark. It adopts similar foldable arms and removable blade protectors. It even has a fake 2-axis camera gimbal.
The Goolrc X12 measures 20.6 x 18 x 9cm (8.1 x 7.1 x 3.5″) and it is available in various colors: red, blue and black.
Thanks to the barometric air-pressure sensor, the drone is capable to maintain autonomously its flight altitude. This feature makes it more easier for newbies to control the aircraft's movements.
According to the advertised specs, the 1000 mAh battery allows about 12 minutes of play time. Not bad for a $50 toy drone. The battery is removable, so you can extend even more this flight time. Anyway, my suggestion is to rest a while between flights in order to let the motors cool down.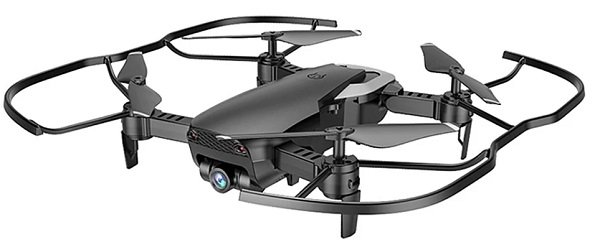 Goolrc X12 quadcopter: Features & specs
Spark alike design;
Barometric altitude hold;
Headless flight mode;
One key Take-off/Landing;
2MP camera angle adjustment;
WiFi real-time image transmission (FPV);
About 12 minutes play time;
Up to 100 meters control range;
Available in black, blue and red colors.
Goolrc X12: Remote controller
As you can see in the image bellow, even the Goolrc X12's transmitter follows the DJI's design. It comes with almost identical phone holder and foldable antennas (BTW, probably fake ones).
On front panel, besides the usual control sticks and power switch, you can find 6 control buttons. Take off and Landing buttons are located close to the throttle stick.
Each shoulder button has multiple functions. While the left one activates Headless mode/RTH & Photo/Video, the right one allows to toggle between Speed rates & enables 3D flip mode/Emergency stop.
Why and where to buy the Goolrc X12 quadcopter?
If you're wondering to purchase an entry level drone for your kids or your own entertainment, the Goolrc X12 is worth to take into consideration. It has pretty cool design and comes with all the latest toy drone features. Thanks to the on-board 2Mp camera you can capture the journey of your first flights. It is suitable for both outdoor and indoor flights thanks to its small size. Now, using this "HY15X" coupon code it can be ordered from here for only $45.99 – this price includes remote controller, blade protectors and free shipping.
What you get for $45.99 (w/ discount code)?
Goolrc X12 mini foldable drone;
2.4G Remote controller with phone holder;
1000mAh flight battery;
USB battery charger;
1 set of spare propellers;
2 pieces of blade protectors;
Screwdriver;
User manual.
Sponsored post by TomTop