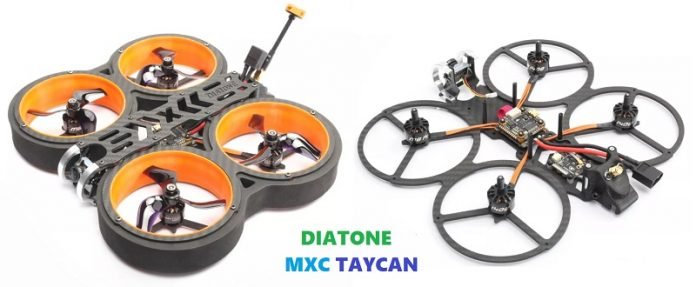 Diatone's new CineWhoop comes with two types of FPV cameras. The price difference between RUNCAM NANO2 and DJI FPV Air Unit versions is about US$150. The Nano2 camera is paired with a 400mW VTX. The DIATONE MX-C 349 is built on the 158mm size DIATONE MXC TAYCAN ducted frame. In addition to the onboard camera, you can also install a GoPro style action camera.
The DIATONE MX-C 349 is available with two power options. While 4S version comes with MB1408 4000KV motors and 25A ESC, the 6S edition with 2800KV motors, and 35A ESC. According to Diatone, using a 4s/1050-1300mah LiPo pack you can have about 5-7 min flight time. 6S version has about two minutes of an extra fun time.
DIATONE MX-C 349 TAYCAN highlights
Cool rugged TinyWhoop design;
158mm wheelbase;
3″ propeller compatible;
MAMBA F405MINI MK3 flight controller;
Racing MB1408 4000KV/2800KV (4s/6s) brush-less motors;
F25MK2 /25A (4S) or F35 /35A (6S) 4-in-1 Mamba Dshot 600 ESC;
Optional RUNCAM NANO2 or DJI FPV Air Unit;
MAMBA TX400 400mW (only RunCam version);
4s and 6s battery versions.