The Diatone ROMA F1 is an ultra-compact FPV drone with removable blade protectors. For better orientation during the line of sight flights (LoS), it has black color guards in front and blue ones in the rear. The two-layer carbon fiber frame has a wheelbase of 85mm. The top plate is padded with anti-slip material for firm battery installation.
Roma F1 features high-quality Diatone MAMBA hardware. The F405MINI MK3.5 flight controller is stacked with an F25MK2 8BIT 4-in-1 ESC board. Even the FrSky D16 compatible radio receiver has the snakehead logo on it. The tiny RunCam NANO 2 FPV camera is paired with a high-power MAMBA TX500 5.8G VTX.
It has an XT30 battery plug and it can be powered with 3S batteries. For best flight performance you should use a 350~450mAh LIPO pack.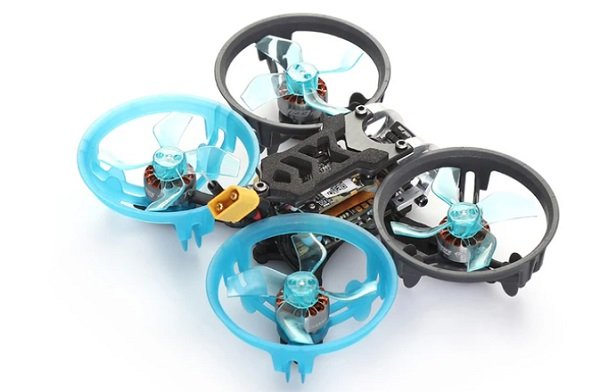 Diatone ROMA F1 features and specs
85mm size carbon fiber frame with removable Whoop blade protectors;
MAMBA F405MINI MK3.5 flight controller;
MAMBA F25MK2 8BIT ESC board;
TOKA1103 10000KV motors + 1.6″ 4-leaf propellers;
RunCam NANO 2 FPV camera;
MAMBA TX500 5.8G VTX w/ sleeve dipole antenna;
FrSky compatible MAMBA MSR D16 radio receiver;
3S LIPO compatible (350mAH-450mAh recommended);
Lightweight (70g without battery).