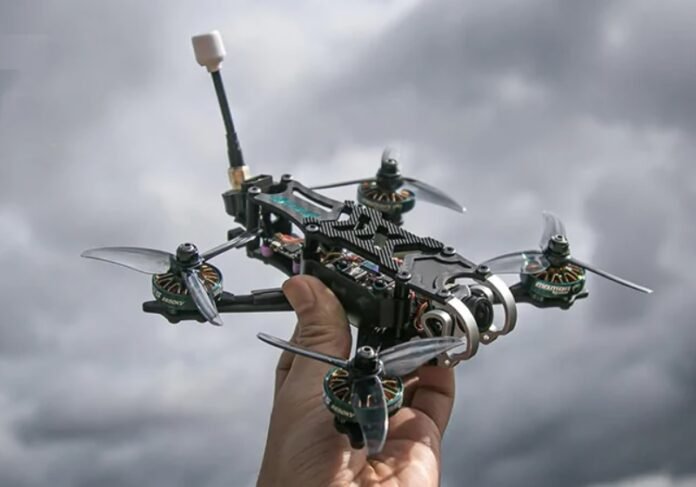 Like many manufacturer's Diatone also started to provide smaller and lighter FPV racing quads. The Roma F35 has only a 158mm wheelbase and weighs less than 250 grams. Despite that, it uses 3.5″ propellers you can expect similar flight performance as from a large 5″ drone.
The Diatone Roma F35 is available with two FPV systems. While the Roma F35 Analog has RUNCAM PHOENIX 2 camera and MAMBA TX500 VTX, the digital Roma F35 HD has CADDX POLAR Vista KIT. Both variants can be purchased with 4S and 6S power options.
It has protective frames on both sides to avoid damaging the electronic parts during crashes. The top plate is padded with anti slip rubber for firm battery installation.
Diatone Roma F35 (HD) features and specs
Robust 158mm size two-layer carbon fibre frame;
Analog and Digital FPV versions;
Two power options (4S and 6s);
MAMBA DJI F722 MINI MK2 flight controller;
F40BLS_MINI 4-in-1 ESC;
TOKA 2203.5 4200KV (4S) or 2650KV (6S) motors with 3.5inch 3leaf propellers;
CADDX POLAR Vista KIT (digital FPV) or RUNCAM PHOENIX 2 + MAMBA TX500 (analog FPV);
4S 850-1000mAh (6-7Min) or 6S 650-850mAh (6-7Min).
Diatone Roma F35 video review by Albert KIM
https://youtu.be/cvs5Klvi-_k