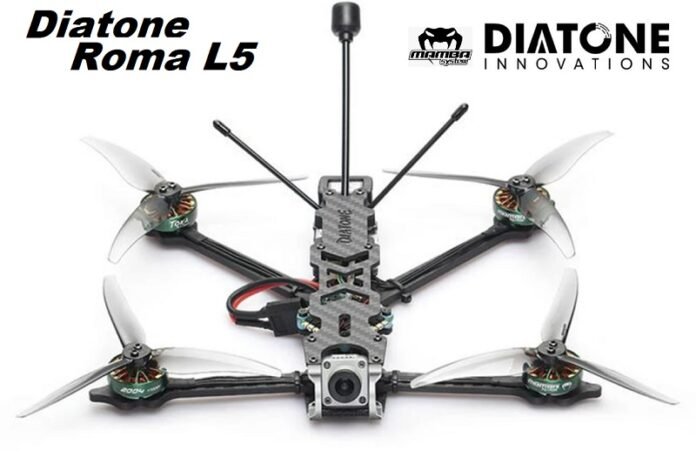 Diatone's latest long-range FPV drone is advertised with more than 30 minutes of flight time. The Diatone Roma L5 has two power opinions. In comparison, the 4S edition is equipped with MAMBA 2004 2900KV motors, the 6S one with MAMBA 2004 1700KV motors. Both motor types are equipped with 3-blade 5-inch propellers.
Designed for long-range FPV flights, the Roma L5 comes with the M8PLUS GPS module. The versatile MAMBA F722 AIO MK1 flight controller is matched with MAMBA 35A 8BIT ESC.
For the FPV system, Diatone opted for a hybrid solution (digital + analog). In addition to the Caddix Vista HD digital transmitter, it has a MAMBA Ultra Tiny 400mW VTX for legacy FPV goggles compatibility.
Diatone Roma L5 features and specs
214mm size dead-cat style carbon frame;
MAMBA F722 AIO MK1 flight controller + MAMBA 35A 8BIT ESC;
MAMBA 2004 2900KV (4S) or 1700KV (6S) brushless motors;
5-inch 3 leaf propellers;
CADDX Nebula PRO HD digital FPV system;
MAMBA Ultra Tiny 400mW 5.8Ghz analog VTX;
M8PLUS GPS module;
About 220 grams total weight without a battery;
4S (1300mAh LIPO pack or 18650 Li-lon 3000mah) and 6S (1050mAh) power versions.
First look at the Roma L5 (4S & 6S)