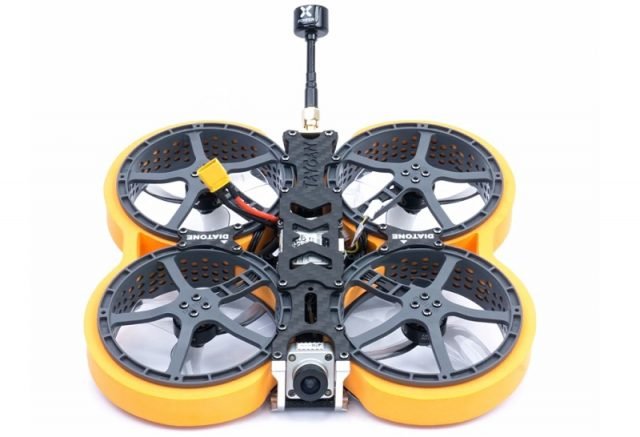 Diatone, one of the most popular FPV drone manufacturer, just announced a super-compact CineWhoop with 2.5″ propellers. The Diatone Taycan 25 comes with two camera options. While the analog edition comes with a Caddx Baby Ratel camera and MAMBA TX400 400mW 5.8G VTX, the digital version has a DJI camera and Vista HD digital transmitter. The price difference between the two versions is $120 ($159 vs $279) on Banggood.
The brain of the Taycan 25 Duct is an all-in-one MAMBA F411 flight controller with an integrated 25 ESC board. The MAMBA Racing 1404 5000KV motors are equipped with 3leaf propellers.
According to the rumored specs, powered by a 4S/1300mah battery you can have up to 7 minutes of playtime and about 3~5min racing time with a 4S/750-1050mah LIPO pack.
Diatone Taycan 25 specs and features
CineWhoop style design with large crash proof duct blade protectors;
2.5 inch 3 leaf propellers;
MAMBA F411 AIO flight controller with integrated 25A ESC;
Two camera options (Caddx Baby Ratel or Vista DJI);
MAMBA TX400 400mW VTX (analog version);
MAMBA Racing 1404 5000KV;
4S LIPO compatible.
Diatone Taycan 25 details