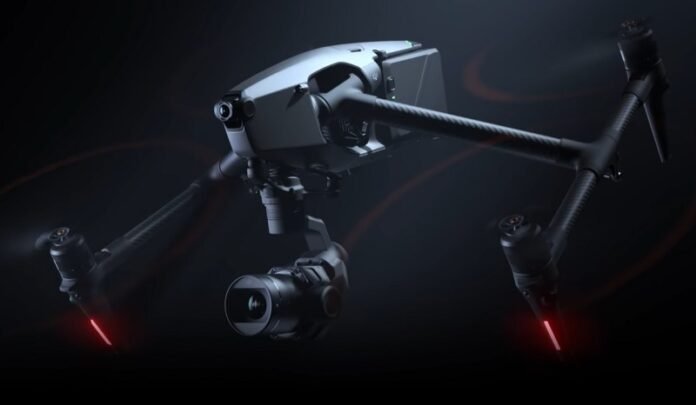 Priced at $16,499, the new DJI Inspire 3 is definitely not for any RC hobbyist or social media content creator. It is intended for commercial-level moviemakers that need the industry's most performant flying camera.
The DJI Inspire 3 is a professional flying camera that adopts a fluid new design that takes aerodynamics entirely into consideration to reduce air resistance. The max dive speed has increased from the 9 m/s of Inspire 2 to 10 m/s, while the vertical ascend/descend speed has increased from 6 m/s and 4 m/s to 8 m/s. Powerful maneuverability delivers responsive, accurate control and an extended flight time of up to 28 minutes.
In addition to the primary stabilized 8K camera that supports internal recording of up to 8K/25fps CinemaDNG video and 8K/75fps Apple ProRes RAW in full frame, the third generation Inspire features a new 1/1.8-inch-sensor FPV camera with a 3μm pixel size, 161° ultra-wide DFOV, and the ability to transmit live feeds at up to 1080p/60fps.
The O3 Pro video transmission system enables a max transmission distance of 15 km in single-control mode and 12 km in dual-control mode.
DJI Inspire 3 key features
8K stabilized full-frame camera with RAW recording (8K/25fps CinemaDNG video and 8K/75fps Apple ProRes);
Dual Native ISO true 8K image sensor;
80° Tilt Boost or 360° Pan Dual Configurations;
High Dynamic Range of 14+ Stops;
DL-Mount Lens Selection;
Auxiliary 1/1.8-inch Ultra-Wide Night-Vision FPV Camera;
O3 Pro video transmission system enables a max transmission distance of up to 15 km;
DJI PRO Ecosystem Support. Inspire 3 supports the DJI High-Bright Remote Monitor, DJI Master Wheels, and DJI Three-Channel Follow Focus, increasing coordination efficiency;
Approx. 28 minutes battery life.
Waypoint Pro
Specially designed for aerial cinematography, Waypoint Pro enables flight-route and shot planning with a wide range of customized settings. With the new Repeatable Routes and 3D Dolly modes, an innovative automated shooting experience can be easily achieved. In addition, RTK centimeter-level positioning ensures more accurate flight-route planning and execution. Whether solo shooting or in a professional crew, use Waypoint Pro to master even highly-complex scenes.
Repeatable Routes
Using Repeatable Routes, the aircraft will automatically fly on the same route and maintain all preset parameters such as altitude, speed, gimbal angle, and camera settings. Repeating the same flight mission allows cinematographers to perform difficult one-takes effortlessly or to fly at different times in the same place to easily create long-duration time-lapses that capture transitions such as day to night or season to season.
Ultra-precise RTK positioning system
Inspire 3 integrates high-precision RTK positioning technology used in industries such as architecture and surveying to deliver centimeter-level accuracy. Compared with traditional meter-level positioning supported by Global Navigation Satellite Systems (GNSS), RTK makes flying more stable and makes flight-route planning more accurate, significantly improving creative efficiency. RTK antennas have been built into the airframe with a new stacked ceramic design, enabling three GNSS types (GPS, BeiDou, and Galileo) and delivering dual-frequency positioning down to the centimeter level.
3D Dolly video mode
3D Dolly can simulate a crane, cablecam, or dolly on film sets while going far beyond the limitations of those devices. After planning a flight route, the cinematographer can manually control the aircraft to move along the route back and forth while adjusting parameters such as speed, gimbal angle, and more according to the needs of the shot. This makes complicated cinema-grade camera movements easier and more efficient and can deliver improved visual effects.
Spotlight Pro
Upgraded from Inspire 2, Spotlight Pro further enables solo creators with more shot possibilities. Based on powerful machine-learning algorithms, Inspire 3 supports automated subject recognition and locking for people, vehicles, and boats with greater accuracy than its predecessor.
Omnidirectional Sensing System
DJI Inspire 3 has nine sensors, enabling a robust omnidirectional sensing system that can detect obstacles in all directions and provide comprehensive protection for flying.
A fisheye camera has been added to each of the four landing arms for the first time. This design helps to avoid obstruction from the airframe when the landing gear is raised and allows for horizontal obstacle sensing when the landing gear is lowered.
Independent Links for Dual Control
Compared with its predecessor, the dual-control experience of Inspire 3 has been significantly upgraded. Two remote controllers can receive live feeds and control the drone independently, so the pilot and gimbal operator can be at different positions on set. This breaks Inspire 2's limitations of binding the primary and secondary control links.
If the pilot loses the aircraft signal, the gimbal operator is now able to take control of the aircraft to return home or land directly safely.
Dual-Battery System
Inspire 3 is equipped with a new TB51 dual-battery system, which utilizes the latest battery chemistry technology for optimized reliability and performance.
TB51 batteries are smaller, lighter, more streamlined, and have higher voltage compared to TB50. They provide a 28-minute max flight time and support hot swapping with a redesigned battery release that allows effortless continuous operation.
DL Mount intechangeble lenses
Inheriting DJI's proprietary DL mount, X9-8K Air is compatible with an additional 18 mm F2.8 full-frame ultra-wide lens and a new telephoto lens (will be released at a later date) [12] on top of the previous full-frame lens selections of DL 24/35/50 mm F2.8. All five lenses are custom-made for aerial cinematography. The housings are made of lightweight, monocoque carbon fiber, so the lightest lens weighs just 178 g, meeting Inspire 3's requirement for ultra-high maneuverability.