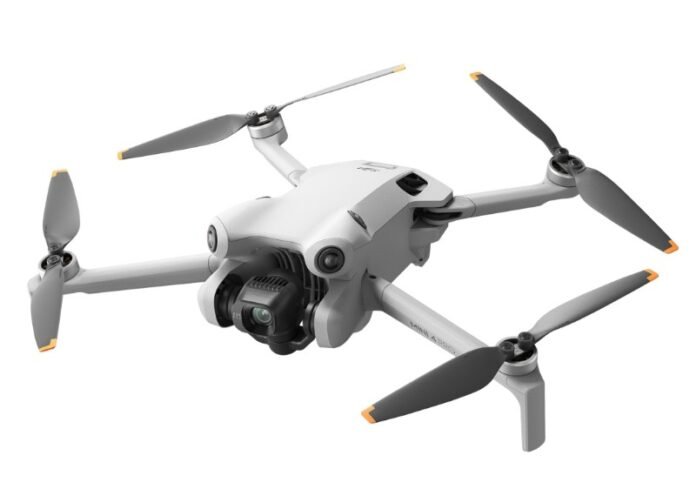 2024 is a busy year for DJI; they upgraded almost all their product ranges. The DJI Mini 4 Pro is an outstanding sub-250g class drone with features ideal for professional and enthusiast use. Despite the many improvements, the fourth generation of the MINI series still can be flown without a license or registration in many regions, making it ideal for those who travel a lot with their drone.
The Mini 4Pro is physically very similar to its predecessor, but this time, it also has two more collision avoidance sensors for omnidirectional obstacle sensing. With folded arms measures 48×94×64 mm and weighs just 249 grams, including the standard battery.
The M4 Pro features DJI's newest Ocusync 4 transmission system, and it comes with two controller options: the RC-N2, which requires a smartphone, and the RC2, with a built-in FPV screen. It has a range of over twelve miles (20 km) in FCC mode with a clear line of sight or 10 km in CE mode.
With the standard 2590 mAh battery, DJI Mini 4 Pro can fly for up to 34 minutes. This can be further extended with the Intelligent Battery Plus, which increases flight time to about 45 minutes.
The camera on the Mini 4 Pro has been improved in several areas, with the introduction of 4K shooting up to 100fps for slow motion or 1080p with up to 200fps. UHD HDR videos can now be recorded with up to 60fps. Video can be captured in Normal, HLG (HDR), and the flat D-Log M profiles.
DJI Mini 4 Pro: Key features
[Take it Easy] Take off whenever inspiration strikes. Weighing less than 249 g, Mini 4 Pro was designed for convenience on the go, and the drone's weight means there's no need for training or examinations in most countries and regions.
[Unmatched video Performance for its size] Capture more complex details easily with Mini 4 Pro's camera, powered by a 1/1.3-inch CMOS sensor featuring Dual Native ISO Fusion, an f/1.7 aperture, and 2.4μm 4-in-1 pixels. More highlight and shadow details with a high dynamic range means uncompromising results in every frame.

4K/60fps HDR: Preserve the natural wonder of any moment. 4K/60fps HDR lets you share the nuances of sunset or sunrise in true-to-life quality.
Maximum Visual Impact: Give vibrant scenes the details they deserve with 4k@60fps HDR and 4K@100fps, while 10-bit D-Log M and HLG help capture a stunning range of colors and provide more flexibility while editing and sharing.
Slo-Mo 4K/100fps: Immerse the audience in every frame. With slow motion in 4K clarity, capture the action on the trails, at the beach, or in your backyard at 100fps.
Highlight the Night: The improved noise reduction algorithm of Mini 4 Pro's Night Shots video effectively suppresses noise and facilitates clearer, cleaner footage right from the camera.
1.07 Billion Colors: Record in 10-bit D-Log M. The natural color gradations and delicate full-spectrum details mean Mini 4 Pro unlocks pro-level post-production control and expert-level creative editing flexibility.
True vertical shots: Enables vertical recording optimized for social media and smartphone playback.

[Sense More, Fly Safe] Omnidirectional obstacle sensing makes Mini 4 Pro mighty safe. With four wide-angle vision sensors and a pair of downward vision sensors, it detects obstacles from all angles. Advanced Pilot Assistance Systems (APAS) ensures additional safety by enabling automatic braking and bypassing during flight.
[Fly Longer, Create More] Leave battery concerns behind and focus on creation with Mini 4 Pro's Intelligent Flight Battery. Enjoy up to 34 minutes of flight time, or upgrade to the Intelligent Flight Battery Plus for an extra 45-minute max flight time.
[Personal flying selfie camera] Mini 4 Pro has three effortless ways to get the shots you want: Spotlight, Point of Interest, and the revolutionary new ActiveTrack 360° with enhanced subject tracking capabilities. Swipe a path on the trace wheel interface to capture seamless cinematic shots. With omnidirectional obstacle sensing, bypassing obstacles and achieving smoother, more stable tracking for pro-level results is shockingly simple.
Full-Power Mini creative modes

MasterShots: Delivers dynamic camera movement templates tailored for portrait, close-up, and long-range shots, ensuring you nail every shot!
QuickShots: Provides Dronie, Circle, Helix, Rocket, Boomerang, and Asteroid modes for more stylish results.
Hyperlapse: Provides Free, Waypoint, Circle, and Course Lock modes with unlimited shooting time and supports compositing while shooting.
Panorama: Supports shooting 180°, Wide Angle, Vertical, and Sphere panoramic photos to capture magnificent landscapes.