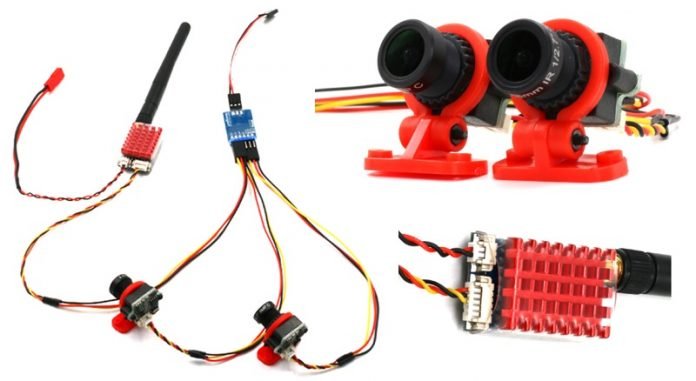 Today I will introduce you a fairly niche product – a dual FPV camera system with up to 600mW transmission power.
While a 3D dual camera system has two VTXs, this dual camera system has one VTX and one PWM switching module. This FPV gear increases the fun by allowing to switch between front and rear view. During a race you can see who is in front of you, and who follows you.
The LANTIAN three-channel video switch allows you to remotely toggle between 3 camera inputs. In addition to the two included cameras you can add a third camera. The 3-way switch has one PWM input which should be connected to the radio receiver. The output of the video switch is connected to the video-in of the VTX.
The video TX has switchable broadcast power. According to your needs, you can toggle between 25 and 600 mW.
Main features of the Dual FPV Camera system
Suitable for two different point of views (rear/front);
Pre-wired system;
Two independent FPV cameras with 1/2.7″ image sensor;
Remote PWM switching (between video inputs);
PWM switch module can support up to 3 cameras;
40CH

5.8G VTX

switchable video transmitter (25mW/600mW);
Up to 1KM transmission range;
Wide range of input voltage (7~28V);
Rubber ducky antenna.
What's inside the box?
2 pieces of FPV cameras with mount;
600mW VTX module with heat-sink;
LANTIAN Three-channel Video Switch;
5.8G Rubber ducky antenna;
JST Power cable;
PWM signal cable.