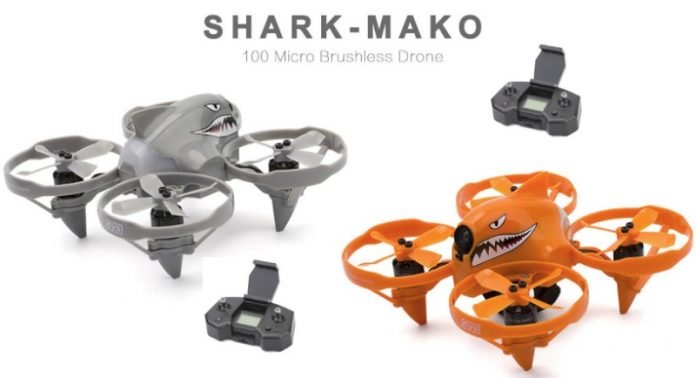 DYS, a popular brush-less motor manufacturer just announced their micro sized FPV quadcopter called, Shark-Mako. Frankly, it is a quite funny name for a drone.
DYS Shark-Mako 100mm can be ordered in two variants, RTF (in bundle with RC) and BNF (with FrSky D8 receiver, but no transmitter). Both, variants are available in gray and orange colors.
Like the Blade Torrent and KingKong ET125, the Shark Mako also follows the epic ducted propeller design of the TinyWhoop.
The powerful 5400KV brush-less motors are paired with 4-leaf propellers. According to your needs (flight distance) you can toggle the VTX's broadcast power between 25mW and 200mW.
DYS Shark-Mako features and specs
100mm sized frame with protective canopy;
Modular design. Quick to assembly;
Versatile F4 flight controller;
4-in-1 Blheli_S F15A brushless ESC;
BE1104-5400KV brush-less motors;
4-blade, 2035 propellers;
5.8G, 40CH VTX with adjustable broadcast power (25/200mW);
FPV camera;
Compatible with 3s LIPO batteries.
As you can see in the image bellow, the modular design of the DYS Shark-Mako allows to easily disassemble and reassemble if need it.
DYS Shark-Mako 100mm package content:
The drone itself;
Mr-Q Mode 2 transmitter;
3S, 11.1V, 25C, 600mAh flight battery;
Battery charger.