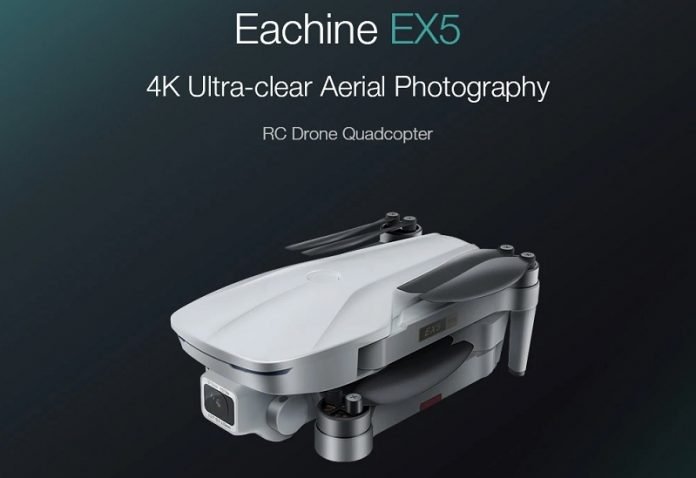 The headline sounds pretty good but it is not exactly true. Even if at first look, the Eachine EX5 with 4K camera and up to 30 min battery life seems to be a great Mavic Mini alternative, it is far behind DJI's smallest foldable drone. Adopting a direct WiFi connection, it has only a quarter of its rival's FPV range (in the best case). Also, even if it claims to have a 4K camera without a 3-axis gimbal stabilization, your footage will be very shaky.
As you can see in the image below, the Eachine EX5 copies the design of the Mavic Mini in every detail. Even the motors look to be the same. Whit folded arms, the aircraft measures just 85 x 140 x 57 mm. Weighing only 229 grams, it is 20g lighter than its DJI contender.
According to your mobile device, you can opt for a 2.4G or 5G WiFI version. While 2.4G version has 1000 meters range, the 5G edition has 200 or 1000m.
Price, availability, and options
As Eachine is a home brand of Banggood, they are the only online store that offers it right now. As I previously mentioned, there are two versions, with 2.4G and 5G WIFI FPV. At the checkout, you can opt for 1, 2, or flight batteries. You have also the option to purchase it in a bundle with a nice carrying case for an extra 10 bucks. While the cheapest version (5G, 200m range, 1 battery, and standard box) is sold for $101.99, the fly more combo pack (3 batteries) and hand case can be ordered for US$156.99.
Eachine EX5 drone features and specs
Compact size with foldable arms;
Only 229 grams, no FAA registration required (at the moment);
Smart flight modes (Follow me, Surround flight and Gesture recording);
Dual satellite positioning (GPS + GLONASS);
4K camera with remote angle adjustment;
2.4G/5G WiFi real-time image transmission;
1406 type brushless motor;
About 30 minutes max flight time;
Up to 1000 meters control & FPV range.
Box content
EX5 RC drone;
Remote controller ;
7.4V/2200mAh flight battery (1, 2 or 3);
USB charging cable;
1 pair of spare propellers;
Screwdriver;
User manual.