Like most popular FPV drone brands, Eachine also started to equip their quadcopters with the Cadax TARSIER 4K dual-lens camera. The Eachine LAL5 is build on a robust, orthogonal X-shape carbon fiber frame with 225mm wheelbase. Featuring versatile LAL-F405 flight controller it can be configured with multiple flight modes.
The 2507 type 1850KV motors are matched with Racerstar 5046 (5″ 3leaf) propellers. The motors are driven by a powerful 50A rated 4-in-1 ESC. The Eachine LAL5 drone can be powered by 4s as well by 6s LIPO batteries – LIHV (high voltage LIPO packs) are also supported.
Eachine LAL5 quadcopter features & specs
Robust 225mm size carbon fiber frame (5 mm arm thickness);
Orthogonal X-shape design;
Quick arm replacement;
EACHINE customized LAL-F405 flight controller;
Bluetooth remote configuration (SpeedyBee APP);
2507 1850KV brushless motors;
50A Blheli_32 3-6S ESC;
40CH/5.8G Eachine TX805 FPV transmitter (25mW/200mW/600mW/800mW power);
Cadax TARSIER 4K V2 dual-lens camera;
4-6 LIPO compatible.
Eachine LAL5 main parts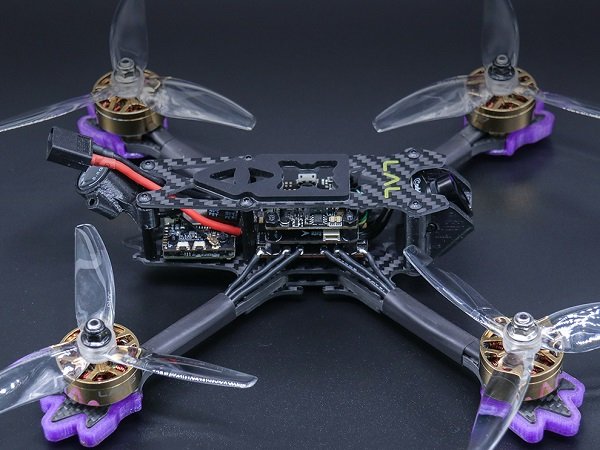 Customized LAL-F405 Bluetooth Flight Controller specs
CPU: STM32F405 master;
MPU: MPU6000 (via SPI);
Input voltage: support 2-6S Lipo input;
Onboard Bluetooth module, support APP configuration via smartphone;
Firmware: MATEKF405;
Integrated German Bosch BMP280 high precision barometer;
Built-in 5v/2A; 10V/2A BEC output
Reserve MicroSD BlackBox;
Reserve 5 serial ports and I2C interface for convenient GPS access (Bluetooth occupies TX5/RX5);
Supports multiple types of receivers (eg SBUS, SUMH, SUMD, SPEKTRUM1024/2048, XBUS or PPM);
With LED programming signal output port, support programmable LED light strip, can be adjusted by flying control with color and flash mode;
Has a voltage monitoring port (BAT) and a current monitoring port (CRT) to monitor battery voltage and current (requires additional power);
With buzzer output port, support for external alarm buzzer for sound warning or notification of aircraft flight status;
Support for BetaFlight/Inav racing firmware;
Size: 37 x 37 mm;
Mounting hole: 30.5 x 30.5 mm;
Weight: 5.9 grams.
Electronic speed controller (ESC) specs
Continue current: 50A;
Burst current: 60A (10s);
Input voltage: 3-6S;
BEC: NO ;
Current sensor: YES;
Main control chip: STM32F051;
Mos chip: TPH1R403;
Firmware: Blheli_32;
Support DSHOT 150/300/600/1200/MULTISHOT/PWM/ONESHOT;
MOS:5 * 6;
Galvanometer: None;
Mounting holes: 30.5 x 30.5 mm;
Size: 49 *37 mm
Weight: 13.5 grams.
Motor specs
Model: 2507;
KV: 1850;
Idle current (IO/10V): 1.42A;
No.of Cells(Lipo): 3-6S;
Peak current: 45A;
Max. power: 1080W;
Max. thrust: 1750g(6s/5");
Configu-ration:12N14P;
Internal Resistance: 0.0398Ω;
Stator diameter: 25mm;
Stator thickness: 7mm;
Height: 19.5mm;
Width: φ31mm;
Shaft diameter: φ5mm;
Motor mount hole size: M3;
Recommend propeller: 5-7 Inch;
Weight: 43g.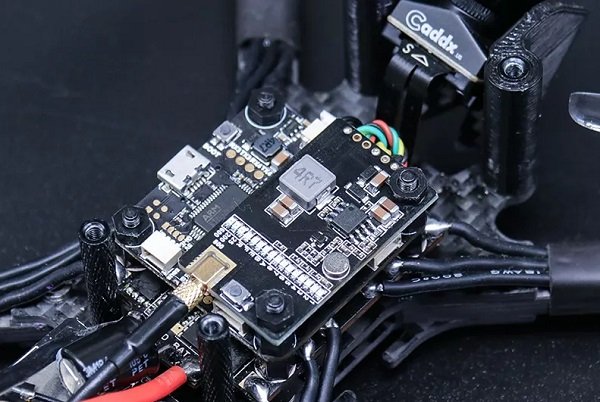 Eachine TX805 specs
Frequency: 5.8G;
Channels: 40CH;
Input voltage: 7V~24V;
120mA(MAX)—-25mW@12V;
200mA(MAX)—-200mW@12V;
300mA(MAX)—-600mW@12V;
350mA(MAX)—-800mW@12V;
Extra features: Smart audio;
Power supply: 5V output for Camera;
Output power: 25mW/200mW/600mW/800mW switchable;
Antenna connector: MMCX;
Cable connector: Solder pads;
Dimensions: 36 x 22 x 5mm;
Weight: 8g (excluding antenna).