Even DJI's digital video transmission system offers much better image quality compared to analog 5.8G systems, many drone pilots are still using FPV monitors like this new Eachine Moneagle. Why? the answer is simple: They are super cheap!
Featuring ultra-high luminance of 1000lux, it should be usable in strong daylight. Its 5 inch display has 800 x 480px resolution, quite low resolution for a 2020 FPV display.
According to the specs, the built-in 4000 mAh battery allows up to 3 hours of continuous working. The battery can be recharged through the micro USB port. Thanks to the wide range of input voltage, you can also power the Eachine Moneagle FPV monitor with an external XT60 drone battery (2~6S LIPO packs).
Its onboard DVR allows capturing the journey of your flights in 3 video formats (VGA, D1, and HD). The micro SD slot can load memory cards with a capacity of up to 64GB.
Eachine Moneagle FPV display features and specs
5″ display with 800 x 480px resolution;
Ultra-high luminance (1000 lux);
Integrated 5.8G/40CH diversity FPV receiver;
Built-in 4000mAh battery (up to 3h working hours);
Wide input voltage (DC 5-23V / 2-6S lipo battery);
Triple mode, built-in DVR (VGA/D1/HD);
On-board video playback;
AV in/out.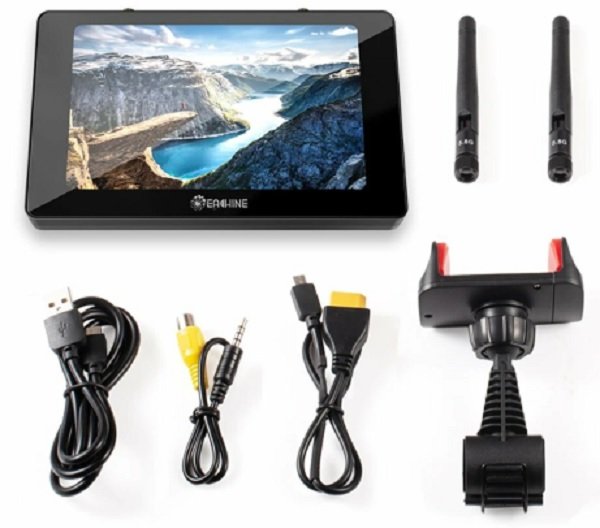 Included accessories with the Eachine Moneagle 5″ FPV monitor
two 5.8G rubber ducky antennas;
USB charging cable;
AV RCA to 3.5mm jack cable;
USB to XT60 cable;
Mounting bracket.