Back in 2016, we reviewed a similar wearable first person view watch like the Eachine RD200 and we found it to be a nice FPV gear. This 2019 model from Eachine brings new cool features. The built-in DVR allows to record the journey of your flights either from the internal 5.8G/48CH receiver or from an external video source (like fpv goggles).
As you can see in the image above, this FPV watch has a generous 2″ color display. While on left side you have 3 control buttons (Frequency, Power and Channel), on left side is located the 3dbi antenna and micro USB socket. According to the advertised specs, the built-in 600 mAh battery allows about 2 hours of continuous usage.
Eachine RD200 FPV watch features & specs
2″ color LCD display (960*240);
Built-in 5.8G/48CH video receiver (RaceBand supported);
Integrated DVR (video recorder);
OSD Screen (RSSI signal strength, CH, Battery level and Memory card status);
Built-in 600mAh battery which allows up to 2 hours working time;
Foldable 3dBi copper 5.8G antenna;
External AV-In.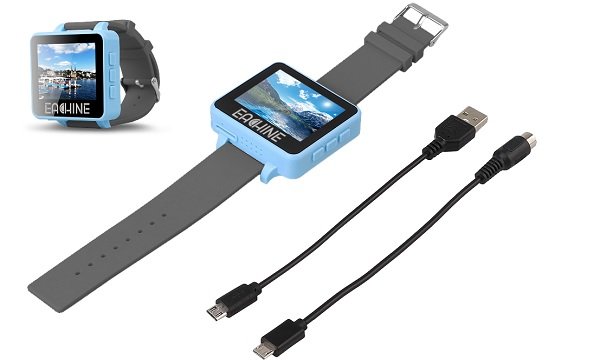 Box content
Eachine RD200 is packed with two type of USB cable. While the USB to micro USB let you to charge the FPV watch, the micro USB to RCA cable allows to use an external video source. BTW, at checkout you can opt between blue and white colors of the watch.