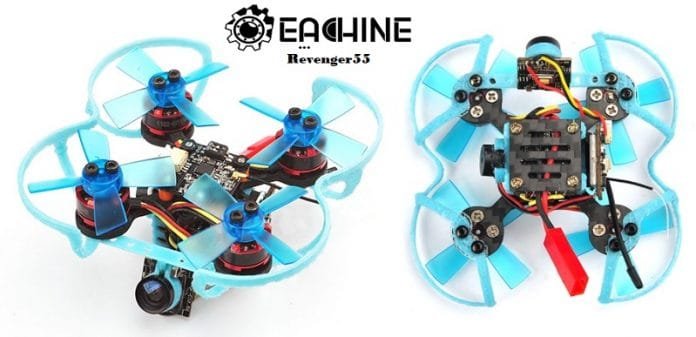 When I firstly read about the Eachine Revenger55 I was totally enthusiast to test one. Checking the manufacturer specs I found out that smaller does not necessarily mean better. In my opinion, its 3 minutes of flight time is too short for an enjoyable flight time.
The Eachine Revenger 55 is build on a 55mm sized carbon fiber frame. In order to allow safe indoor flying, the manufacturer equipped it with propeller protectors.
Unlike other Eachine models, this micro brushless drone adopts dedicated 25mW 48CH VTX module instead of a AIO camera (with integrated VTX).
By default, the Eachine Revenger comes with BetaFlight firmware, but the F3 flight controller can be flashed with CleanFlight as well.
According to your existing transmitter you can opt between four type of radio receivers: Frsky XSR-E receiver, Frsky SBUS D8, Flysky 8ch AFHDS2A and Specktrum DSM2/DSMX.
Eachine Revenger55 main features
Durable 55mm sized carbon fiber frame;
Nylon propeller protectors;
Versatile F3 flight controller;
Multiple flight modes (Acro, Air and Angle);
Compatible with CleanFlight and Betaflight firmware;
FPV camera with angle adjustment;
5.8G real-time image transmission with 25 mW broadcast power;
Multiple radio options;
Optional buzzer;
About 3 minutes flight time.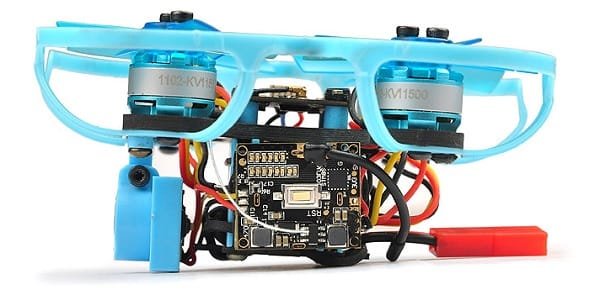 Eachine Revenger main parts and included accessories
55mm carbon fiber frame kit;
F3 flight controller;
Optional radio receiver;
6A BLHeli_S Dshot 2 In 1 ESC;
Eachine 1102 KV11500 brush-less motors;
1 set of 4-blade propellers;
600TVL camera;
5.8G VTX module;
2s 400mAh battery;
Quick start guide.