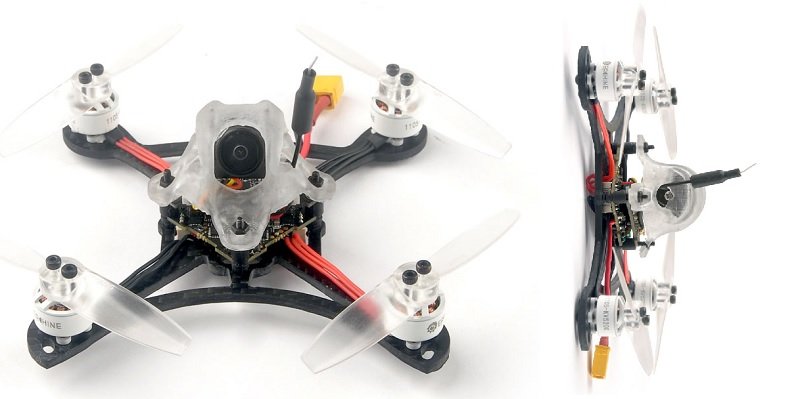 Eachine's new Twig 115mm first person view drone will be available wit two type of FPV cameras. While for the Caddx Baby Turtle HD version you will need to pay $129.99, Runcam Nano2 edition will cost only $98.99. Both, variants are sold in in BNF version with Frsky D8 radio receiver and 5.8G/40CH FPV transmitter.
Thanks to the versatile Crazybee F4 PRO flight controller, you can configure the Eachine Twig with multiple flight modes. According to your flight skills you can opt between Angle (fully-stabilized), Horizon (half-stabilized) and Acro (free style) modes.
Out of the box it comes with Frsky D8 radio receiver. It is NON-EU version, so you need to set your transmitter correspondingly.
Eachine Twig 115mm features & specs
115mm size carbon fiber frame with plastic protective canopy;
Versatile Crazybee F4 PRO V3.0 AIO flight controller;
On-board 10A 4in1 ESC (F_H_40_REV16_5.HEX firmware);
1105 KV5200 brushless motors;
3 inch, two blade propellers (Gemfan 3025);
NON-EU Frsky D8 compatible radio receiver;
Optional Caddx Baby Turtle HD or Runcam Nano 2 camera;
5.8G/40CH video transmitter (25-200mW VTX power);
2-3S LIPO compatible.