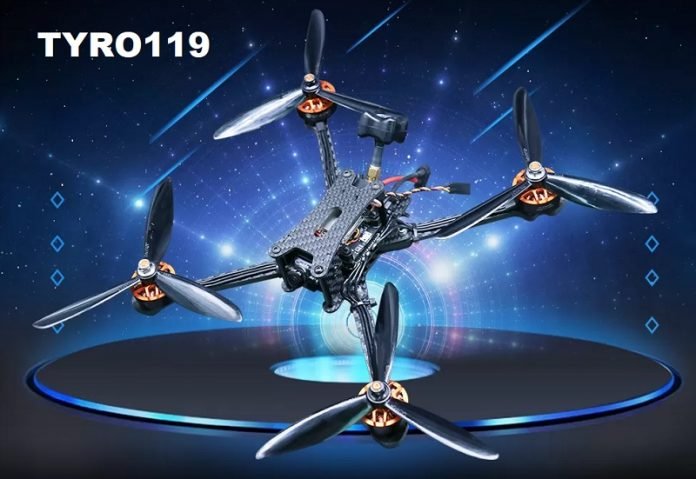 Just like in case of all DIY Tyro drones, the number included in the name of Eachine Tyro119 drone means its price, not its wheelbase size (distance between motors). For only $119 you get all the parts you need to build your own racing FPV drone.
Designed for long range flights, the 250mm size carbon fiber air-frame will be installed with large 6 inches propellers. Also, the package includes a GPS module in order to be able to implement GPS assisted auto-return to home.
The Caddx Turbo F2 camera is paired with a 5.8G/40CH video transmitter. The VTX's power can be toggled between 25, 200 and 600mW. At max power you should get stable video from at least 1KM.
Eachine Tyro 119 features & specs
250mm size carbon fiber frame with 5mm thick arms;
Eachine GPS F4 flight controller with Eachine BN-220T GPS module;
4In1 40A Eachine BLHeli_S ESC;
Eachine 2407 1800KV motors;
DALProp TJ6045 3-blade propellers;
5.8G/40CH FPV transmitter (0/25/200/600mW VTX power);
Caddx.us Turbo f2 Camera;
3-6s LIPO battery compatible (5S 1300-1800mAh 50-85C suggested).
Needed to be completed with
Being sold by Banggood as PNP KIT, you will need, besides flight battery (3S-6S LIPO pack) and transmitter, a compatible radio receiver. For FPV flights you will also need a FPV headset.
Eachine Tyro119 main parts details
Eachine GPS F4 Flight Controller
GPS ready;
Main control chip: STM32F405;
Gyroscope: MPU6000;
Barometer: BMP280;
Firmware: Support betaflight / INAV firmware;
Integrated OSD;
Configuration & DMA Mode ( F4 MCU controls OSD);
Support PPM /DSM2/X / IBUS/ SBUS/ XBUS receivers;
10V @ 1.2A BEC Output for VTX or Camera.
Eachine 40A 4In1 BLHeli_S ESC
Continuous Current: 40A;
Burst current: 45A (10S);
BEC output: 5V @ 2A;
Input voltage: 2-6S;
Main control chip: 48mhz EFM8BB2;
Firmware upgrade: Supports Dshot150-600/Multishot/Oneshot/PWM;
MOS: 5X6;
Current Sensor: NO;
Size: 37.5 x 37.5mm (30.5 x 30.5mm mounting holes);
Weight: 15 grams.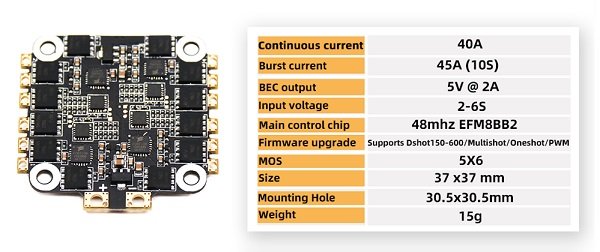 Caddx.us Turbo f2 Camera specs
Signal system: NTSC / PAL (Switchable);
Resolution ratio(horizontal center): 1200 TVL;
Video output Signal: CVBS;
Image: 16:9;
Synchronization method: inter-sync;
Camera lens: standard 2.1mm;
Lens operating voltage: DC 4.5-40V;
S/N Ratio: >52dB (AGC OFF);
Audio: YES;
Case size: 19 x 19 x 16mm;
Weight: 5.5 grams.
Motor & propeller
1800 KV 3-6S brushless type motors;
6″ 3-blade propellers.