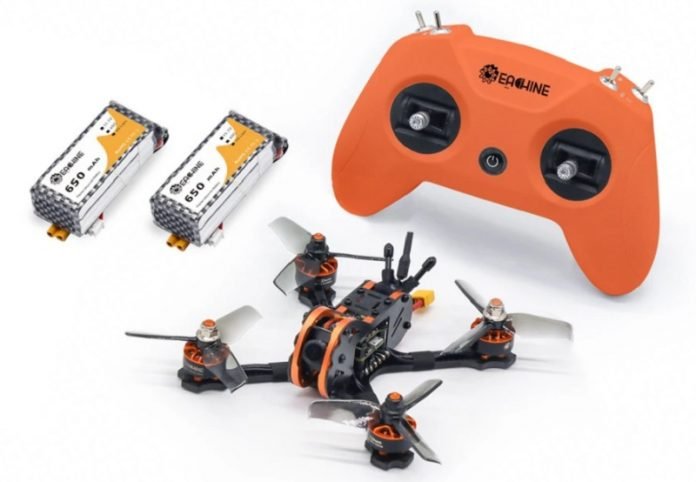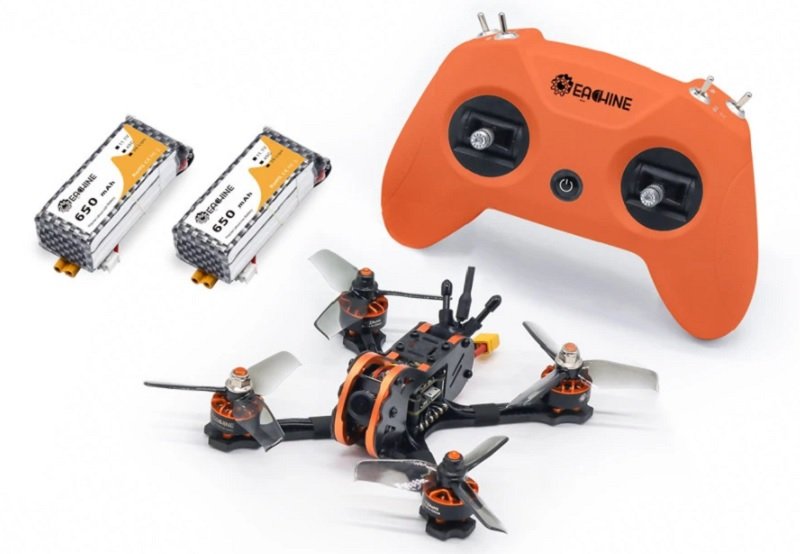 Although I'm very busy with recovering the lost drone reviews by server failure, I couldn't miss writing a few words about this upgraded version of Eachine Tyro79S. The new edition comes ready to fly (in RTF package) with included transmitter and two or four flight batteries.
At the end of each 3mm thick arm, there is a powerful 1607 type 2800KV motor, matched with Racerstar Tornado 3040 propellers. The angle of the onboard Eachine 700TVL camera can be adjusted according to your flight style. Thanks to the SmartAudio feature you can change the transmission channel and VTX power even remotely.
Eachine Tyro79S features and specs
140mm size carbon fiber frame for 3″ propellers;
F4 OSD Flight Controller;
20A BLheli_S 4In1 Brushless ESC;
1607 2800KV 2-4S brushless motors;
Racerstar Tornado 3040 3-leaf propellers;
XF5805 5.8G 40CH VTX (25/100/200mW broadcast power);
Eachine 700TVL CMOS camera;
Frsky XM+ radio receiver;
LiteRadio Radio Transmitter;
3S LIPO compatible (XT30 plug).
Eachine Tyro79S main parts
Flight controller specs
Main Control Chip: STM32F411;
PID circulation rate and refresh rate can up to 32kHz;
Supports Betaflight/cleanflight/inav firmware;
Sensor: ICM20602 6-Axis;
Integrated BetaFlight OSD;
PPM/DSM/IBUS/UAR share: UART1-RX;
Mounting holes distance: 20x20mm;
Weight: 24 grams.
Motor speed controller (ESC) specs
Continuous Current: 20A;
Burst Current: 25A (for ~8seconds);
BEC Output: NO;
Input voltage: 2-4S;
Main control chip: 48mhz EFM8BB2;
With 25V 150uF Capacitor ( Solder well on ESC Board);
Firmware upgrade: Supports Dshot600/BLHeli_S/Oneshot125;
MOS Type: TPN2R703N;
Size: 27x31mm ( 20x20mm mounting holes);
Weight: 3.7 grams.
Motors technical specifications
KV: 2800KV;
Lipo cell: 2-4S;
Weight: 17.8g (includes wires);
Output shaft length: 14mm;
Maximum pull: signal 630g (4S 3030 4-blade propeller);
Maximum power: 350W;
Configuration: 9N/12P;
Mounting holes distance: 12*12mm;
Mounting holes: φM2;
Bearing: NSK;
N52 Strong NdFeB Magnet;
Camera specs
Total pixels: PAL: 1020H×596V (0.61MP); NTSC: 1020H×508V (0.52MP);
Effective pixels: PAL: 976H×582V (0.57MP); NTSC: 976H×494V (0.48MP);
Signal system: PAL;
Resolution ratio(horizontal center): 700TVL;
Video output: 1.0Vp-p/75Ω;
Automatic gain control: 0.25/0.50/0.75/1.00, up to 55dB;
White balance: off;
Exposure mode: electron exposure;
Electronic shutter: 1/50(1/60) – 1/100000 S;
Gamma correction: 0.45/1.0;
Synchronization method: inter-sync;
Camera lens: standard 2.1mm;
Lens operating voltage: DC 5-12V;
Working current: 70mA (low power consumption);
Case size: 19x19mm;
Weight: 9.5 grams.
FPV video transmitter specs
Operating frequency: 5G;
Number of channels: 40;
Transmitting power: 25/100/200mW switchable;
Full video format: NTSC/PAL;
Input voltage: 7V~26V;
Power dissipation: +12V/600MW; 260mA;
Supports TBS SmartAudio;
With copper pipe mini antenna (ipex antenna);
Size: 25×20×4mm;
Weight: ≤3.2g (without antenna).