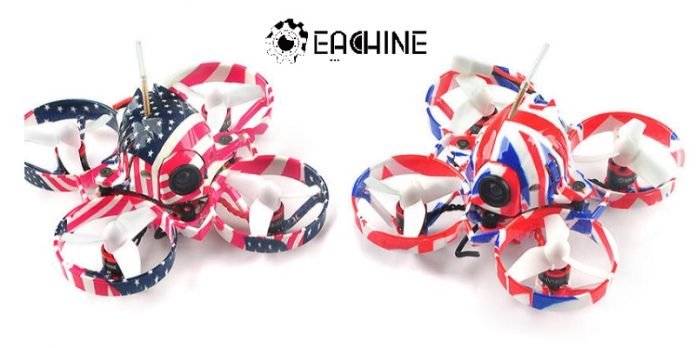 With a price tag of only $69, the Eachine US65 and UK65 are currently the most affordable brushless Tiny Whoops. The only difference between the Eachine US65 and Eachine UK65 is the painting of the canopy & blade protectors. While the US65 is painted with the US flag, the UK65 has the UK flag on it. Both drones are equipped with Crazybee F3 Flight Controller and KV19000 brushless motors. According to your existing remote controller you can opt for FrSky or FlySky version.
These two new mini FPV drones from Eachine seem to be an upgraded version of the more expensive URUAV UR65. They feature not just almost identical design, but also similar hardware.
Eachine US65/UK65 features & specs
65mm sized frame with TinyWhoop alike ducted blade protectors;
Crazybee F3 Flight Controller w/ Betaflight_3.4.0_Crazybee firmware;
Multiple flight modes;
Onboard 4in1 6A brushlles ESC;
700TVL AIO FPV camera with integrated 25mW VTX;
5.8G real-time image transmission;
SmartAudio (VTX telemtry);
1S LiPo compatible (3.8v/250mAh included).
In front of these little brushless Whoops is located an ultra-lightweight (3g) AIO FPV camera with integrated 25mW/48CH 5.8G VTX.
Both, Eachine US65 & Eachine UK65 are advertised in bundle with three LiHV 260 mAh batteries w/ 40C of continuous discharge rate. A 6-way battery charger is also included in the box.

Eachine UK65/US65 Package content:
65mm Whoop Frame (US or UK to choose)
Crazybee F3 FC (w/ Frsky and Flysky option);
1 set of SE0603 KV19000 Motors;
2 sets of 31mm propellers;
AIO Camera & 5.8G 25mw VTX with SmartAudio;
3 pieces of 3.8v 250mah 40C/80C LiPo batteries;
1S06 6 way Lipo/LIHV battery charger;
Propeller removing tool & screwdriver;