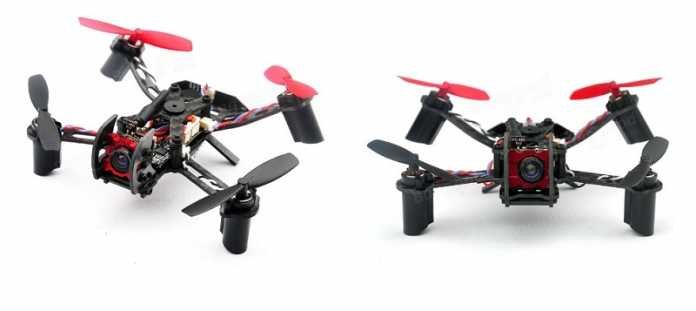 Eachine Vtail QX110 – brushed drone with OSD and 600TVL
Over the time Eachine became one of the most active player on the brushed drone market. They announce new modes like this Eachine Vtail QX110 almost every week. It seems they have abandoned the ducted propeller design and now they want to try something new. The QX110 comes with an unique "V" shaped tail design.
Thanks to the versatile F3Pro flight controller you can opt between 3 different flight mode. The FC also offers OSD which allows the pilot to real-time monitor the flight time, flight mode, arming status and other useful flight data.
Unlike other Eachine brushed models, this new V-tail QX110 comes by default with Betaflight firmware instead of CleanFlight.
On front of the Eachine Vtail QX110 is located a 600TVL camera. The angle of the FPV camera is adjustable.
I am glad that finally Eachine decided to equip their micro FPV quadcopters with buzzer not just with status LED bar. This tiny inexpensive part not only that can warn you on low battery voltage but also can emit loud noises in case of RX signal loss (out of control range).
Eachine Vtail QX110 highlights
Carbon fiber "V" shape frame;
F3Pro flight controller with built-in radio;
Multiple RX/TX options (DSM2/DSMX, FlySky or FrSky);
Betaflight firmware;
Multiple flight modes (Airmode, Angle and Acro);
600TVL camera with 25mW 48CH 5.8G real-time image transmission module;
Adjustable camera angle;
OSD (battery voltage, flight mode and time, Arm status, craft name and artificial horizon);
LED status strip and buzzer.
Eachine V tail QX110 package content
"V" shape QX110 frame kit;
6 pieces of 8520 coreless motors (Black Edition, 4 + 2 spare ones);
AIOF3PRO Brushed flight controller with integrated TX;
5.8G VTX 600TVL FPV camera;
2 sets of propellers;
2 pierces of 3.7V 600mah Li-Po batteries;
USB charging cable;
LED status strip;
Buzzer;
Propeller removing tool;
Quick guide.