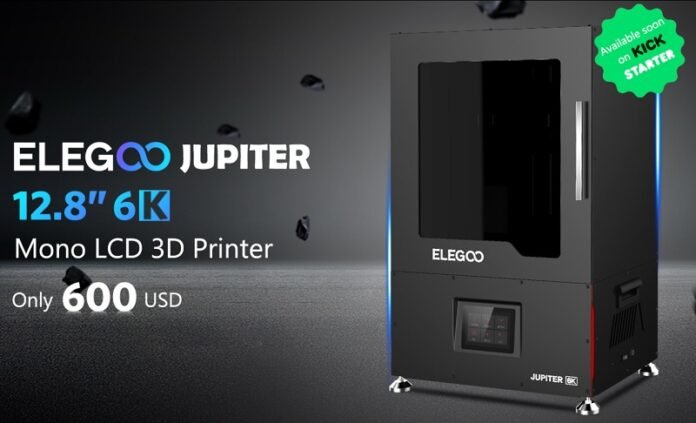 On the day we published our Mars 2 Pro review, Elegoo announced an upcoming large-size 3D resin printer with a 12.8″ 6K LCD. The 5448 x 3064 UHD monochrome panel achieves a pixel pitch of just 51µm that should provide outstanding print quality. The Elegoo Jupiter was announced as a Kickstarter project and will be the biggest 3D printer the company has made.
The rumored photos show a large door that will give you access to the printed models without removing the cover. This way, you can also load additional resin more conveniently.
With a build volume of 277x156x300mm is capable of print quite large 3D models. Using the right resin is perfect for prototyping or creating your favorite toy figures.
Elegoo Jupiter 3D printer rumored features
SLA (StereoLithography Apparatus) technology;
12.8″ super-sized 6K monochrome LCD with 5448 x 3064 resolution (51µm pixel pitch);
277x156x300mm build volume;
Automatic refilling of the resin;
Compatible with ChituBox slicing software.
Update: The Jupiter 3D resin printer will be available on Kickstarter starting on 11 September. You can click on the 'Notify me on launch' button and once the Jupiter program is only online you will be notified by KS. The full list of features, price, and other project details will be available after this day.