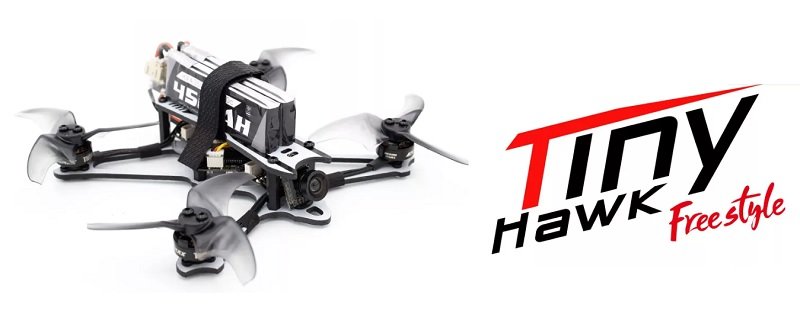 Similar to other drone brands, Emax also started giving up to the TinyWhoop ducted propeller design. Thanks to the superlight 115mm size carbon-fiber frame and powerful 7000KV brushless motors, the EMAX Tinyhawk Freestyle drone has 7:1 power-to-weight ratio.
The frontal 600TVL camera is paired with a 5.8G/37CH FPV transmitter. The 25mW broadcast power is suitable for indoor fun and proximity park flying.
Instead of a 2S LIPO pack, Emax opted to power the Tinyhawk Freestyle 115mm with two pieces of single cell batteries. According to the advertised specs, powered by two 450 mAh batteries you can achieve up to 8 minutes of flight time.
EMAX Tinyhawk Freestyle features & specs
Silk Whoop-less design;
Carbon fiber frame with 115mm wheelbase;
7:1 power-to-weight ratio;
Dual battery connectors (it is powered by 2x1S LIPOs);
F4 flight controller (MATEKF411RX firmware);
H1103-7000KV brushless motors with Avan Rush 2.5″ propellers;
4-in-1 5A electronic speed controller (ESC);
600TVL CMOS Camera;
5.8G/37CH FPV transmitter (25mW VTX power);
EMAX Tiny receiver (Compatible with Frsky transmitter D8/D16 mode).
Package content
Tinyhawk Freestyle drone;
2 x Emax 1s HV 450 mAh batteries;
Battery charger;
Screw pack;
1 set of spare propellers;