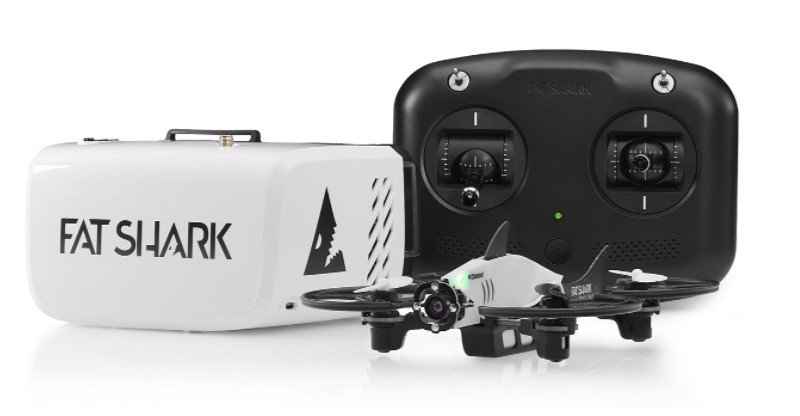 Fat Shark, one of the most popular FPV goggles manufacturer just announced their first drone. The Fat Shark 101 kit seems to be a perfect solution for anyone looking to get into FPV flights. Especially that each FPV kit comes with free access to the Drone Racing League simulator and 3 months of free Academy of Model Aeronautics membership.
The Fat Shark 101 learn-to-fly kit includes a compact drone with FPV camera, remote controller, Recon FPV goggles and training gates.
Frankly, this morning when I saw the first images of the Shark drone, I thought that is April Fools' Day. IMHO, this drone has the most stupid design that I ever saw. I hope not all drones of 2018 will look like this.
First video of Fat Shark 101
Note: the FPV footage from the video above is simulated.
Both, the Recon goggles and the Fat Shark 101 quadcopter can be conveniently recharged through USB. The included remote controller is very minimalist, besides the two control sticks it has only two shoulder switches.
According to the advertised specs, it comes with beginner, intermediate and pro modes for different levels of pilot control. I'm curious if will come with open source firmware like BetaFlight or some proprietary one.
Right now, this FPV starter Kit is available for $249 only through select retailers for presale. According to Fat Shark, initial units will be shipped to retailers in mid-January, at which point pre-orders will be fulfilled on a first-come-first serve basis.
Detailed package content
Shark FPV Quadcopter;
Recon FPV goggles with head-strap and 5.8G antenna;
Fat Shark transmitter;
2 pieces of batteries;
USB charger cable;
Radio USB cable;
2 pieces of spare motors;
1 set of spare propeller;
2 Gates with holders
Lens cloth;
Quick start guide.
The fact that Fat Shark includes two spare motors is a clue that their first drone is equipped with brushed motors instead of more reliable brush-less ones.
last update on 12/23/2017