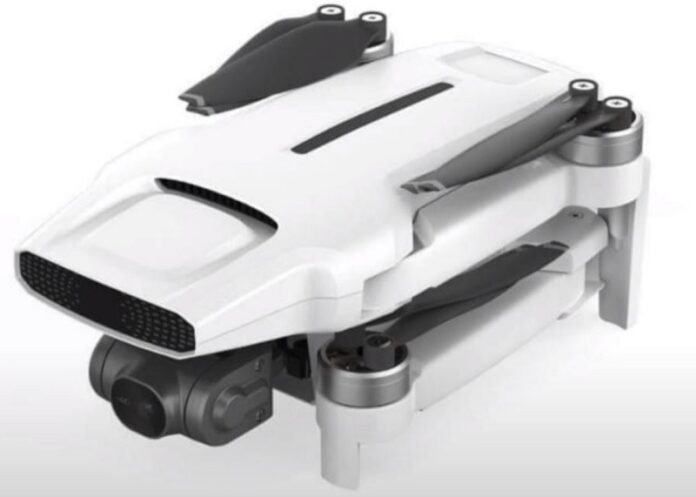 Starting with December 28, a new drone APP, named FIMI NAVI MINI, is available on the Goggle play store. This application was the first clue that predicts a new Xiaomi drone is coming in 2021. Shortly, new rumours appeared about the upcoming FiMI Mini drone, including a photo of it. According to the leaked specs, its design looks very similar to the DJI 2 MINI drone. Even its weight is comparable to this. In most countries, only drones under 250 grams are allowed to be used without registration.
I immediately contacted FIMI regarding the possibility of reviewing their new 4K MINI drone. They answered quickly and said that the first test units will be available in a few months.
The rumours say that the FIMI MINI comes equipped with a gimbal-stabilized 4K@30fps camera based on a 1/2.3″ image sensor. Like its bigger brother, it will feature Active Tracking and lots of other intelligent flight modes. The expected battery life is between 30 and 35 minutes.
Price and availability
After 4 months from the first rumour, the FIMI MINI is available for preorders from Banggood. Starting price for the 'Standard' edition is $449. To be honest for what does it offer is pretty expensive. DJI's Mini 2 has much better flight characteristic and lots more smart features for almost the same price.
Update: Most of the leaks about the FIMI MINI proved to be true. It will have two colour options (orange and white) and two weight classes. The Standard edition weighs 258 grams and the Pro version 245 grams. The FIMI MINI Pro is not just lighter but it also has better battery life. The performance difference comes from the battery type is used. Its onboard HDR camera is capable to record 4K@30fps videos with up to 100Mbps. The excellent battery life (30 minutes) is paired with up to 8KM transmission range. In Search and Rescue (SAR) mode you are able to make 3x digital zoom.
Xiaomi FIMI Mini features and specs
DJI Mavic Mini like the design;
Pro and Standard editions (242g and 258g)
Type C USB charging;
Level 5 wind resistance;
4K@30fps HDR camera with 3-axis gimbal;
1/2.6″ image sensor;
Up to 100Mbps video bit-rate;
ActiveTrack and other intelligent flight modes;
Time-lapse and Panorama modes;
30/31 minutes of flight time (Standard/Pro);
TDMA image transmission with up to 8KM range.
Note: this article will be updated soon as new details are revealed about this upcoming Xiaomi FIMI drone.
Last updated on April 1st.