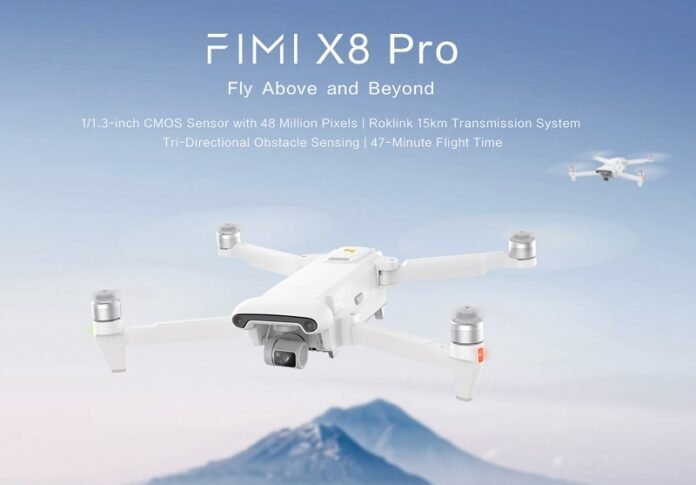 Since 2019 FIMI's X8 series has been constantly updated. In 2023, the Pro edition has finally evolved to be a fierce competitor of the DJI Air series. The new FIMI X8 Pro comes with an advanced 3D obstacle avoidance system, a 15KM range, and up to 47 minutes of flight time with the Plus battery.
In terms of design, the X8 Pro (FMWRJ03AP cod name) looks almost exactly like all its predecessors. With folded arms, it measures 204x106x72.6mm and weighs 780 grams with a standard battery or 830 grand with the Plus battery, ensuring extended flight time. On the belly, there is an extension port that allows being equipped with a megaphone or a release and drop mechanism that is handy a search and rescue operations. The accepted payload is around 350 grams.
It features a 1/1.3-inch 48MP image sensor, with the camera providing an 85-degree field of view or a full-frame equivalent focal length of 24mm. It has a fixed f/1.7 aperture with a focal distance of 6.81mm. The FIMI X8 Pro 2023 can record 4K@30fps videos with a max bitrate of 100 Mbps.
FIMI X8Pro features a fourth-generation RokLink communication system that provides up to 15km range. Furthermore, it can be equipped with a backup 4G mobile GSM module for critical missions. It is compatible with the Standard controller and the TX10A smart controller with built-in screen.
FIMI X8 Pro key features
Same collapsible design and size with lots more inbuild features;
Tri-directional collision avoidance sensors (rear, backward, and downward);
Suitable for all weather conditions. Rain and Snowproof. Level-8 wind resistance;
4K camera camera

1/1.3-inch 48MP image sensor
Large F1.7 lens
3-axis mechanical gimbal
HDR photos and videos
Super night scene shooting
6x digital zoom

Next-generation RoLink V4.0 HD transmission system with up to 15KM range

Optional 4G GSM cellular comunication
Remote ID

40\47 minutes of battery life
Smart flight modes

Active tracking
Flight planner
Search and rescue mode
Precise landing

Accessory extension port for megaphone or release and drop (up to 350g payload)
FIMI X8 Pro: Battery options
The FIMI X8 Pro has been announced with two types of batteries. While the standard pack has 3800mAh and allows about 40 minutes of flight time, the Plus version has 5000mAh and ensures close to 47 minutes of battery life. The standard 4S pack weighs 280g, and the Plus 330 grams.