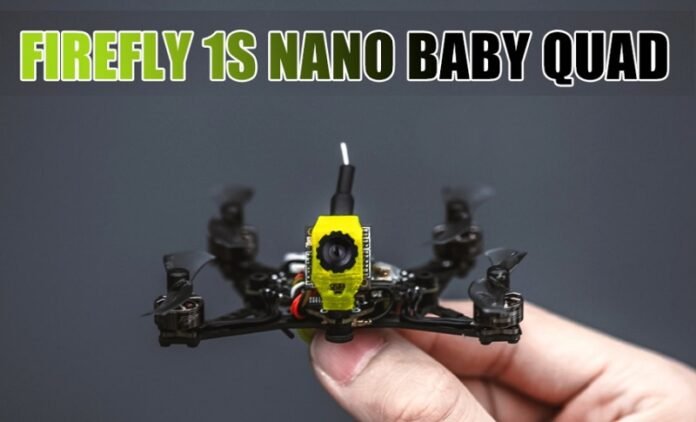 The new Firefly 1S Nano Baby is the manufacturer's lightest and smallest brushless FPV drone. It is built around a 5in1 flight controller with an integrated 250mW 5.8GHz VTX, 5A ESC, and SPI FrSky radio receiver. The GOKU Versatile F4 FC has 3 UART ports, 2XWS2812 LEDs and a mounting pattern of 25x25mm.
Its tiny ROBO 0802.4 16500KV brushless motors are equipped with Gemfan 40mm propellers. According to the advertised specs with a 450mAh battery, you can have almost 9 minutes of flight time. In terms of flight performance, this little mosquito is suitable for freestyle and cruising flights as well.
Flywoo Firefly 1S Nano Baby features and specs
Suitable for both indoor and outdoor flights;
Quiet like a mosquito :)
Robust Carbon fibre frame with no props in view;
Super lightweight (only 20.4 grams);
Versatile 5-IN-1 GOKU F4 flight controller w/250mw VTX and 5A ESC;
ROBO 0802.4 16500KV brushless motors with Gemfan 40mm propellers;
Flywoo 1S Nano Camera;
Multiple radio options (SPI FrSky, ELRS 2.4Ghz, or TBS CRSF);
Long flight time (Up to 8 minutes and 45 seconds with Flywoo 1S 450mah).
Price and availability
The Flywoo Firefly 1S Nano Baby can be pre-ordered from MakerFire with a starting price of $109.99 for SPI Frsky version. The ELRS version will cost you extra 15 bucks. A set of four GNB 450mAh 1S HV 3.8V batteries can be purchased for $22.79.