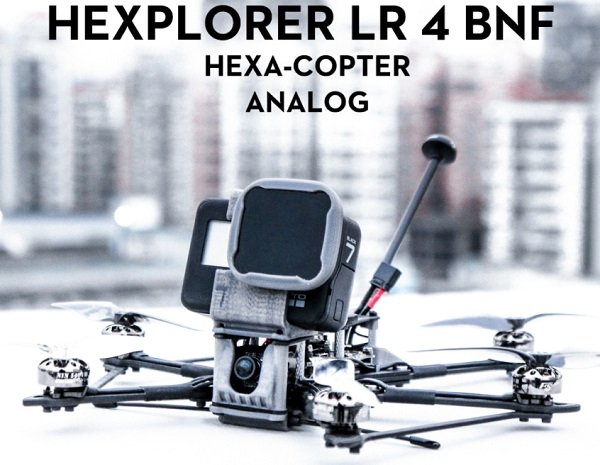 The Flywoo HEXplorer LR is the first Toothpick style hexacopter that comes with a built-in power cable for the SMO 4K camera (Insta360 ONE R Lite). This lightweight 4-inch FPV drone was specially designed for long-range flights. In addition to the onboard GPS positioning, it comes with Flywoo Finder buzzer module which increases the chance of founding your drone in case you crash it in the middle of nowhere.
Like similar FPV quads, the Flywoo HEXplorer LR is also available in two versions. While the analog edition comes with the tiny Caddx Ant camera and the high-power Goku Hm600 VTX, HD digital edition is equipped with the latest Caddx Nebula Pro camera and Caddx Vista VTX. Both variants are available with optional FrSky R9MM, XM+, or TBS Crossfire Nano RX radio receiver. The digital Flywoo HEXplorer is natively compatible with DJI FPV transmitters.
Despite its compact size, due to its 6-motor design, it has enough power to carry a full-size GoPro camera. For best performance, the manufacturer suggests to power it with a 4s/ 850-1100mAh LIPO battery.
Flywoo HEXplorer LR features and specs
4-inch six motor design for improved stability for Cinematic videos;
Can carry a full-size GoPro camera;
Analog (Caddx Ant + Goku Hm600 600mw VTX) and HD Digital (Caddx Nebula Pro + Caddx Vista VTX) FPV versions;
Built-in power cable for Insta360 ONE R Lite (aka SMO 4K) camera;
Goku F745 Hex Nano Stack (16×16);
Flywoo Bt-nano Bluetooth module;
Nin 1404 V2 2750kv motors with Gemfan 4024 propellers;
Goku M8N mini GPS v2.0 module;
Flywoo Finder v1.0 (buzzer);
Optional FrSky R9MM, XM+, or TBS Crossfire Nano RX radio receiver;
4S LIPO compatible.
Flywoo HEXplorer LR Main Parts
The HEXplorer LR drone is built around the highly-integrated Goku F745 Hex Nano Stack. For improved visibility during night flights, the flight controller comes with four RGB WS2812 LEDs. While the FC has a USB Type-C port for configuration, Flywoo also equipped this long-range hexacopter with a Bluetooth module. This way you can customize flight-parameters right on the field, remotely from your smartphone.
At the end of each arm, there is a Flywoo Nin 1404 V2 2750kv motor paired with 2-leaf, 4-inch Gemfan 4024 propellers. It has two clear props in front, two blue in the middle, and also two blue on the rear.
Flywoo HEXplorer LR video reviews
Despite that it was only yesterday officially revealed, there are already few video reviews on YouTube. I know that we can't trust 100% these sponsored reviews, but when they come from FPV demons like Joshua Bardwell and Albert Kim, at least we should watch them.
Video credit to Joshua Bardwell
https://www.youtube.com/watch?v=oVodBFbPGmw
Video credit to Albert Kim
Video credit to Captain Drone
Video credit to AndyRC