Foxeer Box 4k camera with GoPro Session design
Although I find the "Mobius" design much proper for quadcopters, it seems that all major drone camera manufacturers move to cubic design. Like GoPro Hero, this new Foxeer Box 4k comes with the same compact cubic shape (40 x 40 x 40mm).
Compared to its predecessor (Legend 1), the Foxeer Box 4k camera offers much higher video resolutions. Thanks to the powerful Ambrella A12 SoC, it is capable to record UHD videos with 24FPS and FHD videos with 120FPS.
The Foxeer Box 4k is IP64 rated, which means that can be used even in the rain.
On front of the 155 degree angle lens is a protective glass, hopefully easily replaceable in case of a nasty crash.
Foxeer Box 4k features and specs
Ambrella A12

imaging processor;
Sony IMX117 CMOS image sensor;
Electronic image stabilization (EIS);
7G 155° F2.8 wide angle lens;
4K/25fps, 4K/25fps and 1080P/120fps video resolutions;
Super view mode;
Stereo microphone;
Integrated 1100mAh battery;
Wi-Fi and Bluetooth wireless connections;
Micro USB and micro HDMI ports;
Lens protection glass;
ISO speed: 100 – 1600;
Shutter speed for pic: 1/30~60;
IP64 waterproof;
size of 40x40x40mm.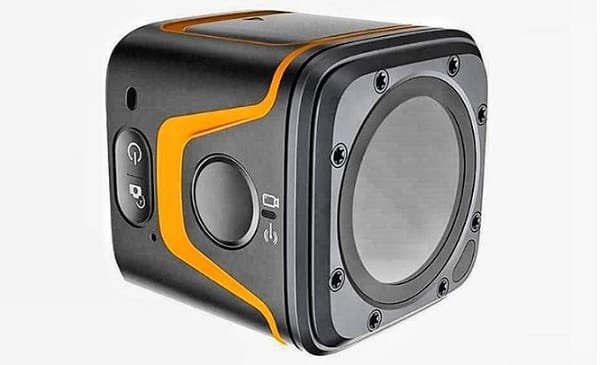 According the rumored specs, the Foxeer Box 4k is powered by a 1100mAh.
The camera has 3 control buttons and two connectors (micro USB and micro HDMI).
Thanks to the WiFi and Bluetooth connections, the camera can be remotely controlled through your smartphone.
I wanted to contact the manufacturer in order to request a sample for review but it seems they are very shy because I couldn't find any contact details…