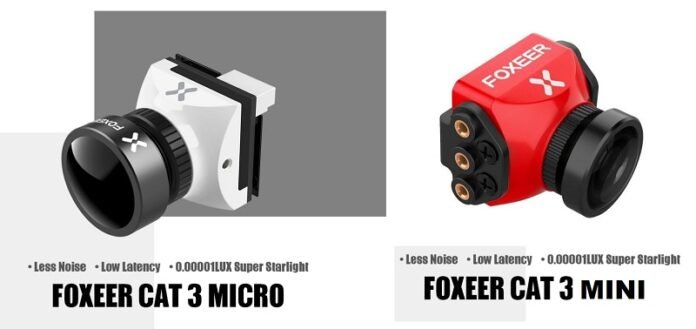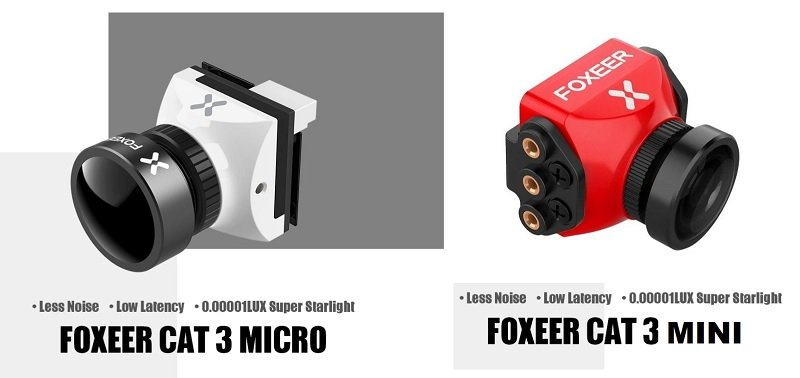 The Foxeer Cat 3 series is optimized for low-light conditions. It claims that has 0.00001Lux minimal illumination. StarLight FPV cameras are perfect for park flying. While the Cat 3 Micro measures 19x19mm and weights 10.7g, the Cat Mini 22x22mm and 12.2 grams. Both cameras feature the same Sony 1/3″ CMOS image sensor with 1200TVL resolution.
Camera settings can be changed using the included OSD keyboard, as well as remotely through Foxeer flight controllers. The built-in OSD provides information such as system voltage, Aircraft Name, and Elapsed time.
Thanks to the wide range of input voltage it can be powered from 2 to 5s LIPO batteries.
Foxeer Cat 3 Micro and Mini specs comparison
Foxeer Cat 3 Micro
Foxeer Cat 3 Mini
Image sensor
Sony 1/3″ CMOS
Sony 1/3″ CMOS
Resolution
1200TVL
1200TVL
4:3 FOV
H: 100° and D:125°
H: 100° and D:125°
Shutter Speed
PAL: 1/25~1/10000 sec
NTSC: 1/30~1/10000 sec
PAL: 1/25~1/10000 sec
NTSC: 1/30~1/10000 sec
Min. Illumination
0.00001Lux
0.00001Lux
Lens
M12 2.1mm
M12 2.1mm
DNR
3DNR
3DNR
WDR
100dB
100dB
Flight OSD
Yes
Yes
Voltage input
DC 4.6~20V
DC 4.6~24V
Video Out
CVBS
CVBS
Dimension
19x19mm
22x22mm (without bracket)
28x22mm (with bracket)
Weight
10.7 grams
12.2 grams
As you can see in the table above, excepting size and weight there is no much difference between the two Foxeer Cat 3 cameras.