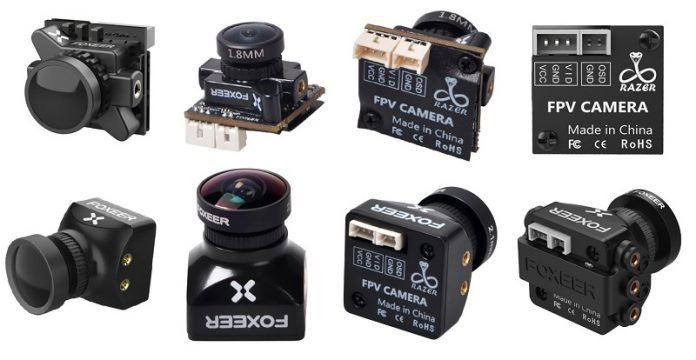 Foxeer, one of the most popular FPV rig manufacturer just announced two new extremely affordable 1200TVL cameras. While the super small Foxeer Razer Micro is advertised for $17.90, its larger twin-brother the Razer Mini for $19.90. Both FPV cameras features 1200TVL resolution and 1/3″ CMOS image sensor.
Featuring wide range of input voltage, both Foxeer Razer cameras can be powered from 2S to 5S LIPO batteries. Both Micro and Mini versions are available in two colors (black and red).
Price & Availability
Now, you can get the Foxeer Razer Micro camera from Banggood with 40% off.
Foxeer Razer Micro vs Foxeer Razer Mini comparison
| | | |
| --- | --- | --- |
| Camera/Specs | Razer Micro | Razer Mini |
| Size | 19×18.7mm | 21.8×21.8mm |
| Weight | 4.5 grams | 12 grams |
| Image sensor | 1/3″ CMOS | 1/3″ CMOS |
| Resolution | 1200TVL | 1200TVL |
| Scale | 4:3 and 16:9 | 4:3 and 16:9 |
| Min. Illumination | 0.01Lux | 0.01Lux |
| Lens | 1.8mm M8 | 2.1mm M12 |
| FOV | 4:3 FOV-H 125°, FOV-D 150° / 16:9 FOV-H 125°, FOV-D 140° | 4:3 FOV-H 125°, FOV-D 155° / 16:9 FOV-H 125°, FOV-D 145° |
| Mounting bracket | No | Yes |
| Input voltage | 4.5~25V | 4.5~25V |
| Price | $17.90 | $19.90 |