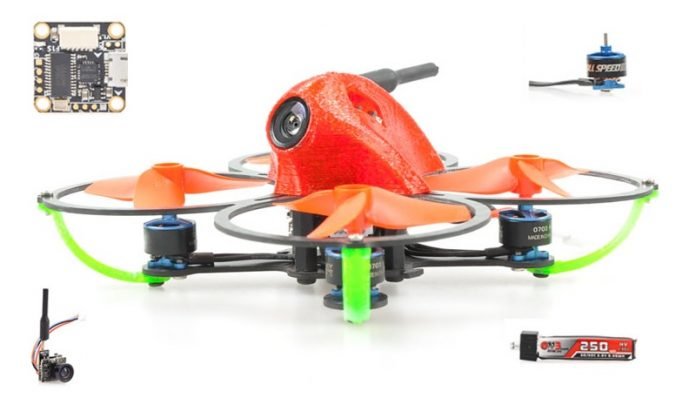 In my opinion, even if the Full Speed Beebee-66 is very small, due to the powerful brush-less motors it is suitable only for experienced pilots. The integrated blade protectors offers some protection, but the 40 mm propellers still can do damages if they bump into something.
Full Speed, announced the Beebee-66 with 3 type of radio receivers. According to your existing transmitter, you can opt between: FrSky, FS-RX2A or DSMX versions.
Thanks to the nylon protective canopy, all the electronic parts (power distribution board and flight controller) are well protected during crashing. The AIO FPV camera is also protected by the red canopy.
Featuring versatile F3 Flight Controller, you can configure the Full Speed Beebee-66 quadcopter with multiple flight modes (Angel, Horizon and Acro).
Full Speed Beebee-66 features and specs
66 mm sized carbon fiber frame with propeller protectors;
Protective nylon canopy;
Teeny1s F3 flight controller with Built-in Betaflight OSD;
Powerful 0703 15000KV brush-less motors;
4in1 6A BLHELI_S 16.6 1S 4in1 ESC Dshot600;
CM2751 camera with integrated 25mw 48CH VTX;
Compatible with PPM, SBUS and DSM radio receivers;
Suitable for 1s Li-Po batteries.
Those who are interested to build their own mini FPV drone, the frame and other parts can be ordered directly from the maker.
Beebee-66 PNP Package content
Frame Kit with canopy;
Teeny 1S F3 Flight Controller
Teeny 1S 6A 4 in 1 Brushless ESC
4 pieces of 0703 15000KV Brush-less Motors;
2 pairs of 40 mm 3-leaf propellers;
VTX FPV Camera;
3.7-4.35V 250mah 30C Li-Po battery;
USB 90 degree converter.