Today, I will introduce you a new super-compact GPS enabled drone with full HD camera. Currently, the FunSky 913 is one of the smallest brushless GPS quadcopter.
The aircraft measures 205 x 185 x 55mm and weights a bit more than 200 grams. It comes with two removable blade protectors. Each guard covers two propellers. At the end of each arm there is a 2700KV brushless motor paired with a 3-leaf props.
According to the advertised specs, the 2S-1500mAh battery allows about 15 minutes play time. Both flight battery and remote controller can be recharged using the included micro USB cable.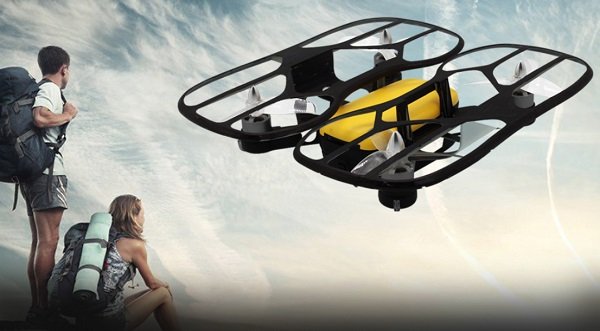 FUNSKY 913-GPS features & specs
Compact & light weight design (only 209 grams);
Removable full-frame blade protectors;
Dual satellite positioning system (GPS/GLNASS);
1306 2700KV brushless motors;
Altitude hold mode;
Precise auto return to home (RTH);
On-board full HD camera (1920*1080@30fps);
5G WiFI real-time image transmission;
Gesture photo and VR mode;
Low voltage protection;
Fail-safe auto RTH on RC signal loss;
GPS, Atti and Sport flight modes;
Up to 300 meters control distance (APP control about 80meters);
About 15 minutes flight time.
FUNSKY 913 remote controller
As you can see in the image bellow, the FunSky 910-GPS is packed with a game-pad style entry-level remote controller. On front panel, besides the usual control sticks, there are 6 tiny buttons and two status LEDs. You have dedicated buttons for auto Take-off and RTH. While the left shoulder button allows to take photos, the right one starts/stops video recording.
Included accessories with the FUNSKY 913 quadcopter
Remote Control with foldable phone holder;
2s/1500mAh flight battery;
2 pairs propellers;
1 set of protection cover (blade guards);
USB charging cable;
Carrying case.