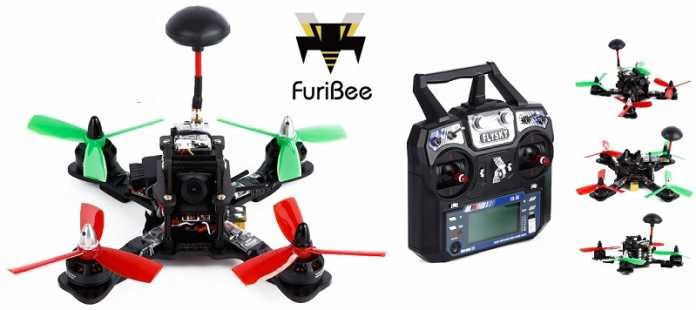 FuriBee F180 – X shape racing quadcopter with F3 6DOF flight controller
FuriBee is a relatively new name in the world of quadcopters. This F180 racing quad is their third announced model. The FuriBee F180, compared to its predecessors (F90 and Fatbee F110), has a more classical design without ducted propellers.
The 180 mm sized X-shape airframe is made from durable carbon-fiber. On top of the quad there is located the 5.8G wireless-image transmission module. According your actual needs and local RF regulations you can set the TX power to 25mW or 200mW.
In order to allow great control range, the manufacturer decided to pair the FuriBee F180 with the FlySky FS-i6 transmitter (which is an excellent entry level RC).
FuriBee F180 features and specs
X-shape carbon fiber airframe (180 mm wheelbase);
F3 6DOF flight controller;
F2205, KV2300 brushless motors;
20A BLHeli-S Oneshot125 ESCs;
CMOS 700 TVL camera;
25 mW/200 mW 5.8G wireless video transmission;
LED status bar (taillight);
Onboard buzzer.
Unfortunately, in the advertised specs of the FuriBee F180 there is nothing mentioned about the flight autonomy and the control range. Based on my good experience with the FS-i6 transmitter I think the range should be around 200 – 400 meters.
Included with the FuriBee F180 drone
FlySky FS-i6 transmitter;
3s 1500 mAh flight battery (30C);
Balance battery charger;
1 set of tri-blade propellers;
1 set of two-blade propellers;
5.8G TX FPV mushroom FPV antenna.
Image with the FuriBee F180 quad